Welcome back to Part 3 of my Flexible Seating Blog Series!  If you are just starting with us today you can catch up by reading Part 1 HERE.  In Part 1 I talked about what flexible seating is and why it is good for kids.  I gathered and explained a lot of research that supports flexible seating and gave lots of links in case you want to go deeper with research.   Part 2 can be found HERE.  In Part 2 I discussed the different ways I have rolled out flexible seating to my students, and the rules that I teach my students for using our seating options safely.
Today I want to talk to you about different ways to manage seating choices with your students.  Just like everything with classroom management and organization, there are lots and lots of different systems.  You really just need to figure out what will work best for you and the students in your classroom.   As I mentioned previously, this is my third year of flexible seating, so I am just going to share with you what I have tried in my classroom so far and what I've figured out along the way.
First, let me start by saying, if you are going to "go for it" with flexible seating, one of the main purposes is allowing students to have choices.  (This is discussed much more in depth in Part 1.)  Now, there were times over the years that I had non-traditional seats in my classroom  that were not used for flexible seating.  This would include things like allowing specific students the accommodation of standing at their desk instead of sitting.  Or having a "super-star work station" that included a special rolling chair and more "teacher-like" desk that students could earn a turn to sit at.  There were also years that I had "special" rocking chairs and bean bags in my reading area that students each got a turn to sit in during our reading block.  All of these seating options could be used in a flexible seating classroom. But none of these examples are considered flexible seating because I was making the decisions about the seating, not the students. (For the record, there is nothing wrong with that.  It is a perfectly acceptable way to run your
classroom… it just isn't considered flexible seating… so if you want to "go for it" I want to help you go for it!).
So, over the past couple of years I have managed student seating choices a few different ways.  There are two basic plans that I have used (and I have tried out small variations of each along the way).  I have tried a completely open, choice based system and a system where each student had an assigned space in the classroom but chose the type of seat that he/she would use in their space.
In theory, I like the idea of having students make choices throughout the day.  This more "open" system feels like it fits the general theory and research of flexible seating better to me.  I also like the idea of the students feeling very comfortable in the classroom and like they can go "find a place" to learn best based on the specific activity, time of day, mood they are in etc.
HOWEVER, this is not the best system for all teachers, all classrooms or all students.  Last year my students could not handle an open system.  I tried several different times in several different ways and it just did. not. work.
This year I am using a "mostly" open management system in my kindergarten class.  My students do have an assigned "carpet square" in our group meeting area.  This works best for us for many reasons.  When we meet on the carpet I need them to gather quickly and quietly and I need their full attention.  I have found that I need some students separated, I need some students close to me, close to the front, etc…  So, at this time of the day, there is no choice seating.
However, the rest of the day, my students choose their space and the type of chair they will sit in.  I am not using any type of chart or physical system for this.  When it is time to choose a seating place, I simply release students in small groups to go "find a smart place to work".  For example, the class might gather on the carpet for a Writer's Workshop mini-lesson.  After the lesson I will just send one group at a time off to get their writing things and find a place to work.  ("If you are sitting on blue, go find a place to work.")  With the group that I have this year, this has worked out fine.  They really don't need much more support than this.
Now, I have put some guidelines in place.  For example, each area of the room has a "maximum number of learners" allowed there.  So, the students know that if an area is full they need to find a different place to work.
I also have a pretty strict, "If you have trouble choosing, I will choose for you" policy.  I highly recommend this.  If you don't enforce something like this, you will wind up with students standing around trying to make up their minds forever.  I have also decided not to let students change their place until once they make a choice (until the next activity).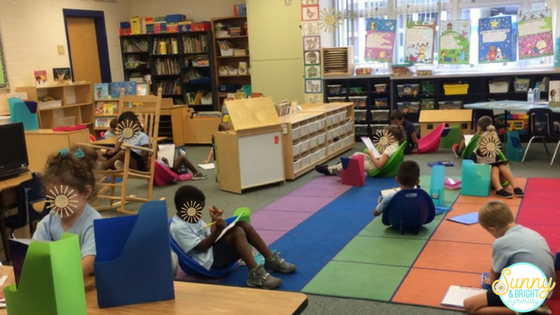 Now, to make this system work, the students need a place to keep their materials so that they can "travel with them" easily.  For my kindergarteners, these book bins have worked out well.  They keep a clipboard, a writing folder, their math, science and ELA journals & a pencil box that holds their crayons pencils etc. in the book box.  All the book boxes stay on the bookshelf under the window and the students just go get them when they need them.
This has worked out really well to keep everyone organized.  (When I taught second grade my students also had a "cubby" that held workbooks & textbooks.)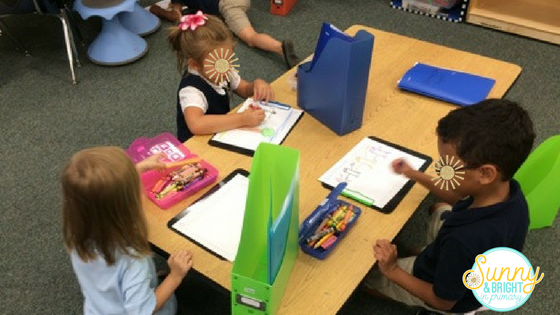 Speaking of when I taught second grade… that was a bit of a challenging year.  It was the year that I had that class…  They were not able to handle the "open seating" system.  I tried… but it was a little bit excruciating.  (And by "a little bit" I mean a lot!)
What worked better with the group I had last year, was to give my students assigned places in the room.  (Kind of like assigned seats – but the actual seats changed.)  They were given the option to choose the type of seat that they wanted to use but they used in the place they were assigned.  This worked very well for this group.  There were just wayyyyy too many personalities that needed help getting along.  (And by "getting along" I mean "staying away from each other".)
So, last year, when my students arrived in the morning, they chose the type of seat they wanted to use that day.  They indicated their choice on a (very not Pinterest-y) chart.  (Each student had a number.  The seating choices were all on the side of the board and the students simply put their choice next to their number.)  Then, they moved that seat to their assigned space.  (You can find the seating choice cards HERE.)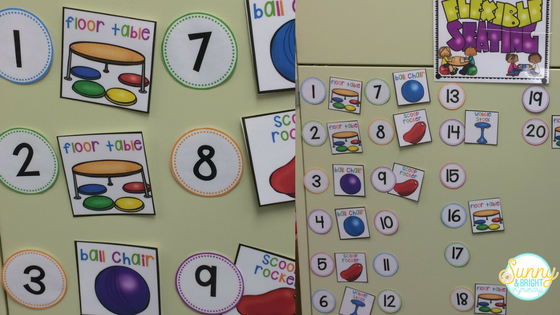 The exceptions to this were the "floor table", "standing table" and "scoop rockers".  These were all to be used in assigned places in the room but when students chose these options they did not sit in their assigned place for the day.  Originally I was not sure how this would work… but it actually worked just fine.  There weren't enough people making those choices on any given day for it to be an issue.
In general, the students used the chair they chose for the day.  However, there always extra seats available. So, if someone wanted to switch their chair for another "available option" and could do so without disturbing anyone that was totally acceptable.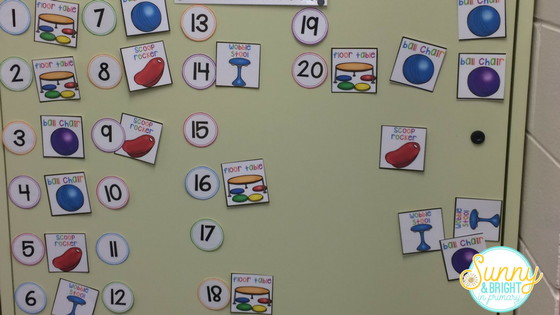 For this group of very, very big personalities this system worked great.  They needed more structure.  And I needed them to have more structure.
Early on in my "flexible seating journey" I tried to have the students choose between the "yellow ball chair table" and the "wobble stool table".  The room looked so nice and organized… Much more "Pinterest-y"…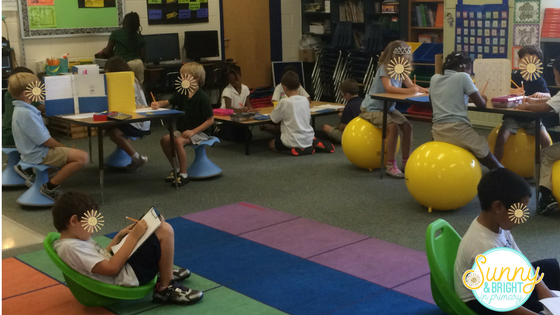 But this just didn't work for me… it wasn't "flexible enough".  It looked nice and it was a step in the right direction (giving them the chance to wiggle more than they could in traditional chairs…) but for me, flexible seating has been most successful when I have given up on making it "look nice" and let the kids take over and make themselves comfortable… which is really the point!
I would love to hear how you have managed student seating choices in your classroom!  Let me know what ideas or questions you have in the comments. And, if you haven't already, be sure to download the flexible seating information freebie that is at the bottom of this post!
Be sure to come back Monday to read Part 4 of this series… So far we have concentrated on all the positive things about flexible seating… but in Part 1 I promised to give you "The good, the bad, and the ugly"… Well, Part 4 is "The Bad and The Ugly"…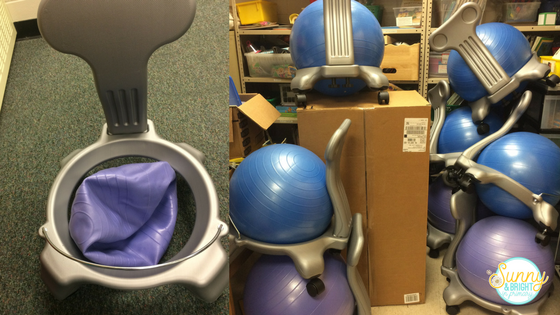 You can find my Flexible Seating Rules & Choice Cards HERE.
Grab Your Freebie!
Grab this freebie to explain WHAT Flexible Seating is and WHY it is so valuable!