Earlier last week I got together after school with some of my long-time "teacher besties".  We have spread out to different schools & grades over the years, had babies, bought houses… even started a book club!  …But somehow when we get together the conversation always makes its way back to school at some point. (…You can take the teacher out of the school, but you can't take the 'school' out of the teacher!)
Somehow, over the course of the night, someone realized that I have made the change to flexible seating.  It was very interesting to me that even the people who "know me best" (my teaching style, my personality etc.) had so many questions.  So, I decided it was finally time to sit down and write out a post about my experiences with flexible seating… the good, the bad, and the ugly!  (Although, if I'm honest… there is going to be very little 'bad' and 'ugly'.  I am a believer… but we will get to that…)  However, once I started writing, I realized I had a lot I wanted to tell you!  So, this has morphed into a mini-blog series.  I will try to make it worth it by including lots of good information & a freebie as well!  So… today, I bring you… "The What & The Why".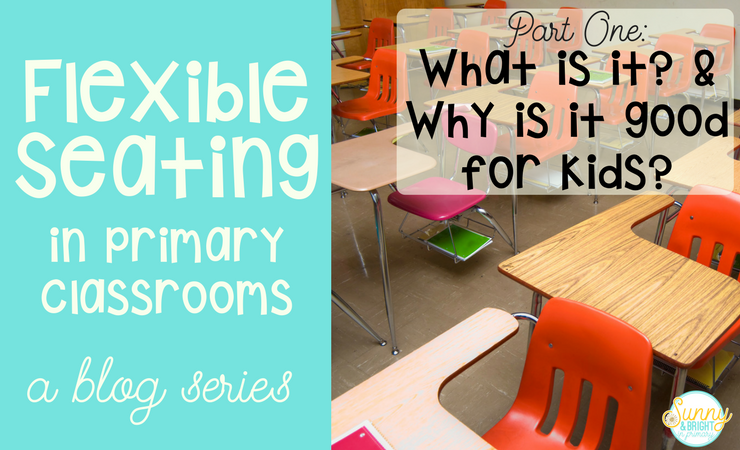 When I look back, I realize that I made a commitment to flexible seating long before anyone (including me!) knew what it was.
I decided I wanted to be a teacher pretty much as soon as I met my kindergarten teacher.  She was smart and fun and taught us the alphabet in sign language.  The trifecta in my five-year-old mind.  I started pretending to be her as I 'played school' each day and spent the next decade carefully observing all my teachers and making mental lists of what I would and would not do with my future students.
When I went to first grade I had another wonderful teacher.  However, there was one huge downfall.  In first grade we had to sit in our seats all day long.  We never, ever sat on the floor.  That is one of my most vivid memories from first grade… how incredibly hard it was to sit in that desk for so many hours a day… and I was not a particularly active child.  I liked to sit and read.  I liked writing.  I loved school.  I just hated sitting in that darn chair all day long!
I clearly remember vowing that "when I was a teacher…" I would never make my students sit in their chairs all day long.  Ha!  Isn't that funny?  I was 'ahead of my time'!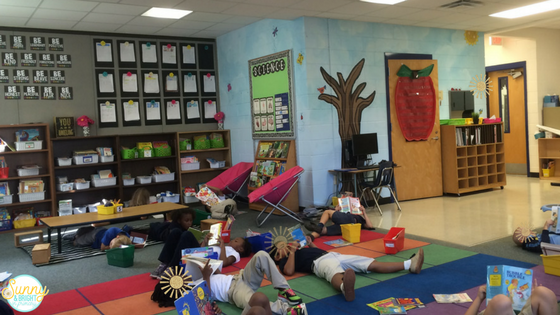 I have been teaching for 18 years now.  I have always been a "sit on the floor", "make yourself comfortable" kind of teacher.  I have always hated desks.  So, when flexible seating became a "thing" it seemed like a natural fit for me!
Last year was my first year integrating flexible seating into my classroom & this year my class is pretty much 100% flexible seating.  (We have kept a few chairs as one of our choices – but no one ever "has to" sit in a traditional chair unless they choose to.)
This year I am teaching kindergarten.  I am co-teaching so we have 2 teachers & 34 students.  Last year when I began flexible seating I was teaching second grade.  The model for my unit was 1 teacher & 18 students.  However, there were times that I had up to 22 students.  I will be sharing information on how flexible seating worked with both of these different groups.
Right now the seating options in my classroom include: a "floor table" (where students sit on the floor), a "kneeling table" (where students kneel on cushions), a standing table, 24 scoop rockers, 2 large rocking chairs and 2 child-sized rocking chairs, 8 wobble stools, 4 Hokki stools, and 10 ball chairs.  (There are also a few traditional chairs.)
I took the following photos during writer's workshop last week.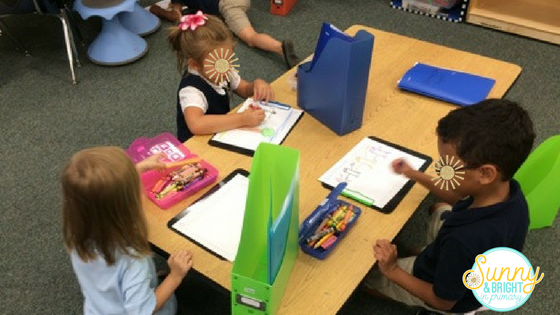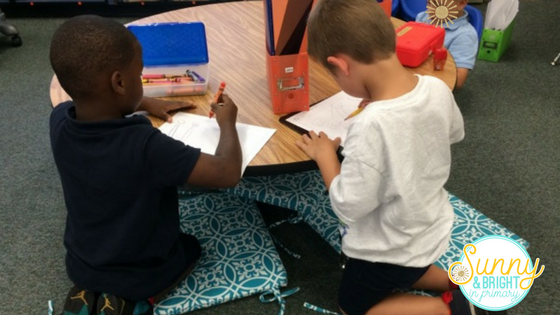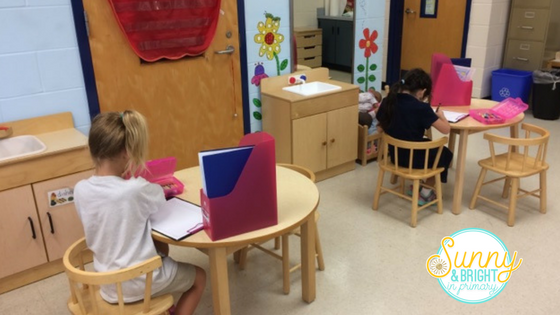 Notice the distinct lack of Pinterest-worthiness.
When I first started flexible seating last year I was very careful to have a "wobble stool table", a "blue ball chair table", an "orange ball chair table" etc.  That didn't last very long.  I soon realized that I was doing that for me not for the kids.  I wanted the room to look "just right"… more like the photos I kept seeing on Pinterest of "perfect" classrooms.  But that wasn't what worked for my kids.
I will go more in depth about this in a "What Worked and What Didn't Work" post… stay tuned to learn from my mistakes 😉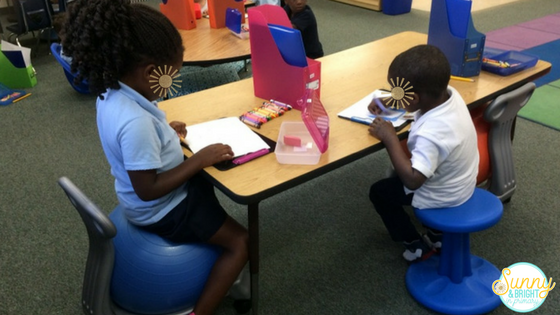 A big part of what I love about flexible seating is the "kids everywhere-ness".  Now, I realize this is not for everyone.  I have some teacher friends who walk into my room and start to itch when they see kids in every nook and cranny of the room.  But I love it.  I really do.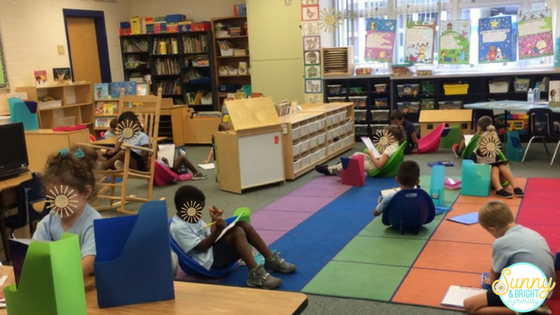 I love that the kids make the classroom theirs.
They learn to "make smart choices" about finding a place to work that will help them concentrate and be successful.  They learn to get comfortable and "dig in" to their work.  I believe that flexible seating has given my students so many more opportunities for decision making and independent thinking.
They are "in charge of their own learning".  And that is SO powerful.
The other important piece of "why" is less personal & more concrete.  It is a solid, research-based educational practice that has dozens of important benefits for students.
I could go on and on and on about why it is so important…  but instead, I am going to give you a list of the highlights and some links where you can read more about the research and benefits.
Flexible Seating:
improves metabolism
increases motivation and engagement
creates better oxygen flow to the brain
increases core strength
improves posture
increases on-task behaviors
decreases amount of  sedentary time students spend in the classroom each day
enhances the learning process and neurological functioning
decreases student anxiety & increases confidence and decision making skills
If you are interested in learning more about the benefits of flexible seating and/or the research that has been done to support this practice I highly recommend the following sources.  I found these very "reader-friendly" research summaries that will guide you toward more information if you want to continue to learn more.
Kayla Delzer- Edutopia.org – Kayla Delzer has become well known as one of the "teacher leaders" in flexible seating.  In this article she discusses the research based benefits of the practice and what she found in her own classroom.
Why Flexible Seating – This is an excellent blog post by Yanina Jimenez that summarizes dozens of books and articles that support the benefits of flexible seating.  This article is very well written and provides a complete bibliography with hyperlinks to all the research used as evidence.  If you are looking for research to support flexible seating this is a fabulous place to start.
Standing Room Only! The Mayo Clinic–  This blog post summarizes and links to the research done by the Mayo Clinic to support the neurological and overall health benefits of flexible seating in the classroom.
If you would like to share some information about flexible seating with either your administration and/or the families of your students, please feel free to download the FREE information sheet at the end of this post!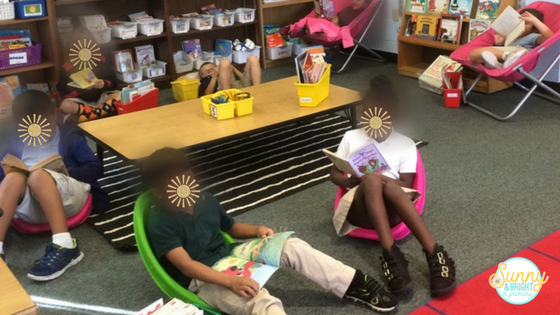 Please be sure to check back on Thursday to read the next post in this series where I will talk about "the how"… How to introduce flexible seating to your students.
If you need flexible seating resources for your classroom I have a set of classroom rules & seating choices for students available in my TPT store.  You can check it out here.
See soon for Part 2!
Grab Your Freebie!
Grab this freebie to explain WHAT Flexible Seating is and WHY it is so valuable!