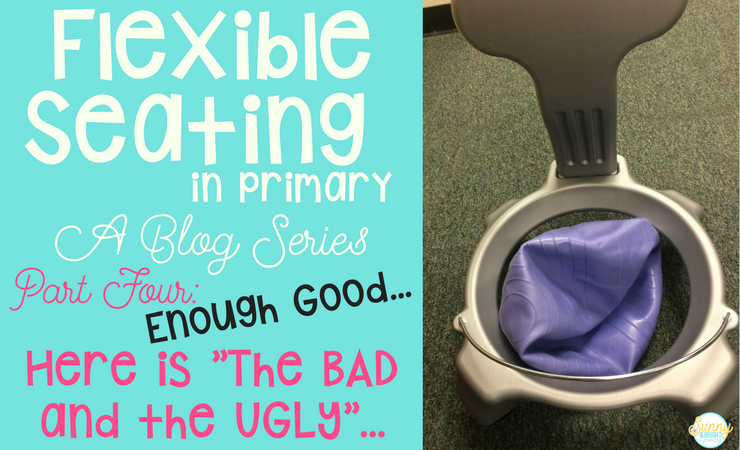 So, if you are reading this, I am really hoping that you have read Part 1, Part 2, and Part 3 of my Flexible Seating blog series.  In those posts I talk about what flexible seating is and why it is so valuable for students, the research that supports flexible seating, how to roll out flexible seating to your students, the rules I use for my flexible seating classroom and the different management systems I have used to help students make their seating choices.  If you read those posts, you know I am a believer.  For reals.
But, back in Part 1, I promised that I was going to share "The Good, The Bad, and The Ugly"… So, today it's time for "The Bad & The Ugly"!
Now, I really haven't had too many problems.  Most of the issues I've had have been pretty easy to problem-solve.  For example, when I realized that that the second graders I was teaching last year needed more structure built into our seating system, I created a seating chart that solved the problem.  I have been able to make small adjustments to my rules and procedures as "little bumps" have popped up and the issues have been solved so quickly that I have trouble remembering exactly what they were.
The only real problems that I have had with flexible seating have come up when I have had substitute teachers in my room.  And they were kind of big problems.
I will start by saying, this was last year when I had that class. They did not do well with subs.  (And by "did not do well" I mean it was a nightmare.  every. single. time.)  So, it is not surprising that something unfamiliar would be difficult for a sub to manage or than these particular students would take gross advantage of the fact that I wasn't there to keep my thumb on them.
Now, I am sure you are thinking, "That's okay, that won't be a problem for me because I will leave instructions for my sub on how the system works…" or "My students know that I have high expectations of them and that I will be very disappointed when I return if there is a bad report…" Ha.  I hope you are correct.  I really do.  I will just say, that I tried everything.
I left explicit instructions and rules for the substitutes.  I left photos and detailed explanations of how the seating plan worked.  I explained to the students that if there was a problem, they wouldn't be allowed to sit in the "good seats" anymore… (and I tried really hard not to be absent) but this is what I came back to the first time there was a sub…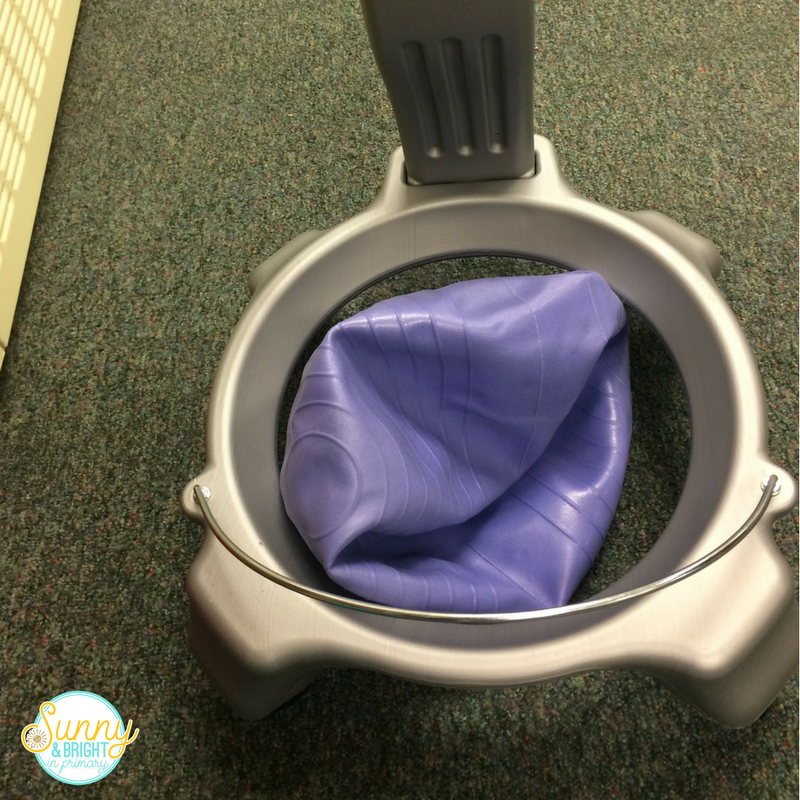 Let's just say it left me feeling very deflated… (bad joke… it really wasn't funny at all…)  That ball chair has a giant hole in it… and I never found out exactly what happened or how it happened.
As you can imagine, I was upset.  My kids were super ashamed… I was sure that as painful as this experience had been… it had been a learning experience and, at least it wouldn't happen again.
Famous last words.
Well, that was a bad week all around.  I am a mother of 4 and that week the stomach flu was tearing it's way through my household.  My husband is also a teacher, so it is never easy or convenient for either of us to take off work… So we were alternating days off to stay home with sick children.  It was my turn again all too soon.
However, I was sure that my lecture and disappointment had left a significant impression on my students.  I updated my substitute information file and added an entire new section that really highlighted my seating rules and how they should not ever have anything sharp near the ball chairs.  I made it clear that it was perfectly acceptable to give them a traditional chair if they broke any of our seating rules.
I don't have a photo of what I returned to… I was so upset it never occurred to me to take a photo.  I was livid.
This time, I returned to not one, BUT TWO, popped ball chairs.
Two.  Two popped chairs.  AND a note from the sub saying he was "sorry- he wasn't sure what happened. " He didn't know who popped them or how.  That really irritated me too.  It sure felt like after one expensive chair broke, maybe there should have been more supervision, or less use of the rest of the expensive chairs.
So, now whenever I have a substitute I wind up with a closet that looks like this…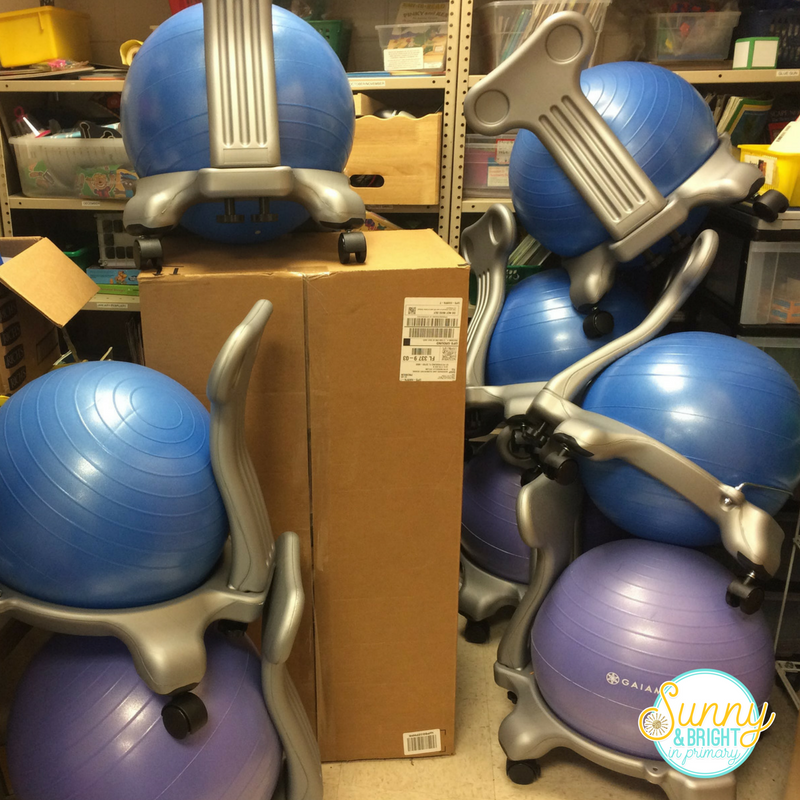 Nice, right?
The reality of this is that I also had to store a closet full of traditional chairs all the time for the few days a year I was unexpectedly going to be absent.  HUGE PAIN.
I also wound up having to text a teacher friend at 6 am and ask her to have someone change out all my seating for me before the sub got there (if it was an unexpected absence).  If I knew I was going to be out, I was able to do this before I left, but when I had a sick 4 year old at 3 am, I would have to call in some major favors.
Now, I don't think this would have been necessary if I was able to get a reliable substitute or one that had worked at our school, with our kids before… but we have a hard time getting subs in my area… and the good ones get scooped up fast!  They are usually booked way in advance for scheduled absences, so when you have something unexpected come up, you are usually not going to get someone experienced.
Also, in the sub's defense, this was a VERY difficult class.  I do not think I would have had this problem with any of the other classes I have had for the last 5 years (although, there were a few before that, that definitely would have had this issue… so it is a "know your kids" kind of situation…).
This year, I am in a wonderful situation, where I am co-teaching with my teacher-BFF.  The chances of us both being absent unexpectedly are very unlikely (although I probably shouldn't say that because that is like daring the universe, isn't it?).  So, I don't foresee this being an issue this year.
The only thing that has been a little bit of a pain this year was an hour before we had parents coming in for Open House when we suddenly realized we didn't have any traditional chairs for them to sit in… While many of the parents like trying out the flexible seating options, many of them are nervous in them (and let's be honest… the ball chairs and wobble stools are fine for adults, but the scoop rockers and floor table are probably not going to work for parents during a meeting!)  We had to scramble around and find some traditional chairs to borrow for the evening.  It was a bit stressful for an hour… but really that's just because we hadn't planned ahead for it.
There are a few other little things… when I get a new student it takes a little while for them to get used to the system – but I have found that assigning a "buddy" to teach new students about all the class centers, routines and (now) seating options works great and this smooths itself out quickly.
Due to the sub shortage that I mentioned earlier, we wind up splitting up classes when we can't get substitute teachers.  So, several times a year, I wind up with an extra, unexpected 3-6 students for the day.  These students are always fascinated by the flexible seating and they always "play around" and break the seating rules all day.  It is super annoying.  However, it makes sense… none of the other classrooms have these seating options and I never take the time to really go over the rules with these students because the day is already crazy (and they are only there for a day).  You can't really fault a six year old who walks into a room full of yoga balls for wanting to bounce around and play all day… I wind up pulling them aside & talking to them quickly.  It works out fine… but it is a bit annoying…
But really that's it.  There is way more "Good" than "Bad and Ugly" in my flexible seating journey.  I really love it.  It has been sooooo good for my students.  It has changed the tone of my classroom and all the little bumps have been so worth it in the long run.
How about you?  Have you experienced problems with flexible seating in your classroom?  Are there things that worry you about it?  I would love to know your thoughts.  Let me know what your concerns are by leaving a comment below.
Come back on Wednesday for the last post in this Flexible Seating blog series.  It will be a "Wrap Up" with answers to some of the questions I am frequently asked.  (Including how I find the funding for the seating!)   Be sure to download the Flexible Seating FREE information guide below & check out my Flexible Seating Rules & Seating Option Cards if you need any resources to get started.
Grab Your Freebie!
Grab this freebie to explain WHAT Flexible Seating is and WHY it is so valuable!