Today I want to talk about getting started with flexible seating in primary classrooms.  Specifically, how I introduced this new concept to my students.
If you haven't read Part One of my Flexible Seating series you can find it HERE. Part One talks about what exactly flexible seating is and why is it is good for students.  I listed the benefits and provided links to supporting research.
In my last post I also explained how I have always been attracted to "non-standard" seating.  So, as flexible seating has become popular I have been looking for a way to get my hands on some of these fabulous new seating options.
The summer of 2016 I decided that I was going to integrate flexible seating into my classroom during the 2016-17 school year.  Since I am not independently wealthy (darn) and my school does not have any "extra" or discretionary funds for teachers to spend, I knew I was going to be on my own.
I started researching Donors Choose grants and pricing the materials I wanted.  I began going to thrift stores and garage sales to see what I could scrounge up to start the year with.  I decided that I was going to start the year with whatever I could get my hands on and that I would add to it during the year.  It was a "slow roll out" last year.  Not because I think that is necessarily better… just because I put out the seating options as I bought them.  (This year everything was out from day 1.)
So, at the beginning of the year I had a set of scoop rockers (that I bought on overstock.com).  If you are going to buy these on your own my advice is to watch the prices and look in several different places.  The prices seem to vary a lot… and they seem to go in and out of stock at different discount stores (like Five Below, Walmart & Overstock).
Okay, back to the "beginning of the year" list… last year I started the year with scoop rockers, a floor table (I simply took the bottom half of the legs off of a regular classroom table) and two large fabric chairs that I got as "hand-me-downs".  I also had a large supply of clipboards (which you absolutely need!).  As the year went on I added wobble stools, Hokki stools, ball chairs and a "standing table" (that was just a regular table raised up higher).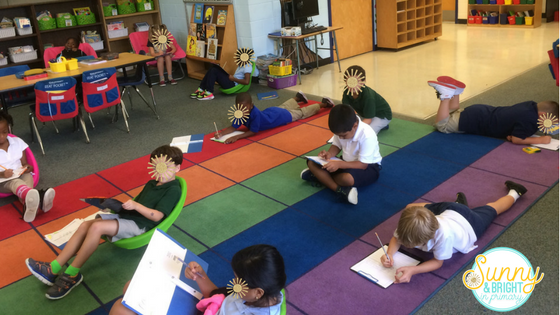 The point of all this is…you do not have to wait until you have "everything you need " to introduce flexible seating to the kids.  Kids are so adaptable!  They were excited each time we added a new option but the "newness" wore off incredibly quickly.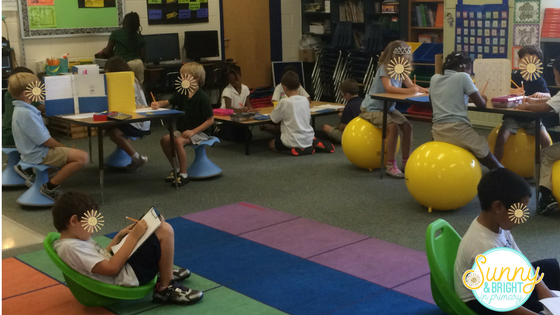 On the other hand, this year I have only a few traditional chairs.  I really had to start flexible seating from day 1.  It would have been very difficult to begin the year with one set of furniture (and find storage for everything else) so that I could phase in the new options.
Both of these introductions worked just fine.  There were some benefits & drawbacks to each situation.  This led me to believe that the best way to roll out flexible seating is the way that works for you.  Truly.  Look at the situation that you are in (the materials you have, the students you are teaching) and either jump in with both feet OR start slow.  It really doesn't matter.  Either way will work.  Promise.
Okay, now… the important thing with both of these roll-outs is that you set up your students for success.  When you pull out 10 yoga balls in a classroom full of young children there is going to be a LOT of excitement!!  You have got to be ready to mold this enthusiasm right away so that it doesn't get out of control (because it can get out of control pretty quickly!).
I have found that my students really needed to be taught explicitly what the new seating options were and how to use them. This was absolutely crucial to the success of flexible seating overall.
I taught them about the seating options in several different ways.
I introduced each seating option individually.  I showed it to the students (in a whole group setting), told them what it was called, and let everyone have a turn sitting in it.
I went over very specific "rules" for each seating option.  (More on this in just a moment.)
We practiced the rules through role playing (with both positive examples and non-examples).  The students loved this and I think it was highly effective in helping them remember the expectations long term.
I posted visual reminders of our rules in the classroom.  They were posted in the room for the entire year and we review them often.  I do not believe that these need to be "fancy" or Pinterest worthy at all!  The kids don't care.  Really, they don't.  If you want cute, ready to go posters I have some in my TPT store but you can also just jot your rules down on a piece of chart paper to hang on the wall and it will work just as well.  Really.
I also instilled a bit of a zero-tolerance policy for "seating safety violations".  After we talked about the rules for each seating option, we talked about how it would be dangerous to sit the wrong way & brainstormed why.  (The kids loved this!  "We could get hurt", "We could break the chairs."  "We could crack our heads open!" – That was always the most popular reason… lots of 'Humpty Dumpty' conversation- Ha!).  Once everyone understands what the rules are and why they are important they are not given "second chances" when they are found guilty of a safety violation.  They are quickly given a traditional chair.  That usually only happens once or twice.  They do not want a traditional chair.
So, now for the rules…
It is probably a good idea to make the rules with your class.  That is always one of those "best practice" things, right?
However, when I started flexible seating I didn't really know what I was doing… I just kind of jumped in.  So, I felt like I needed to at least try to stay a small step ahead of the kids.  (Even if I was faking it.  Ha!). So, I have had my rules pretty much set when I introduce the seating options to the students.
You will definitely find the rules & expectations that work for you and your students.  However, in case you need some ideas to get started, I thought I would share some of my "rules" with you here.  (No need to reinvent the wheel…or the yoga-ball chair, as the case may be!)
S0, these are some of the rules that have worked for me: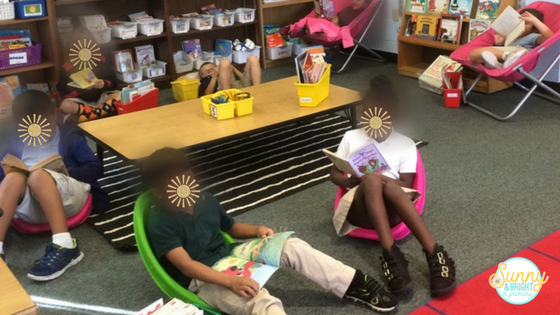 Scoop Rockers:
keep feet on the floor
keep chair upright (no rocking backward & making the chair fall over)
Floor Spot
find a safe place to sit (away from classroom traffic patterns)
keep all my materials (books, pencils, crayons) organized and out of the way so others do not trip on them
Wobble Stools & Hokki Stools:
keep feet on the floor
face forward (remember not to spin around on the stool)
Yoga Balls, Stability Balls, Bouncy Ball Chairs
keep feet on the floor
treat the seat like a chair (not like a ball)
keep my pencils, scissors and all other sharp objects away from the ball chair
Folding Chairs
keep fingers away from buttons that are used to fold up the chair
keep the chair flat on the floor (instead of leaning backwards in the chair)
Disk Seats
keep the disk on the floor or in my chair
treat the disk as a "seat" and not as an object to play with
If you are looking for "ready made" rule posters you can find these HERE.
Be sure to join me next week for Part 3 of my Blog Series.  Next week I will be talking about how my students make their seating choices.  I have tried a few different ways of managing seating options and I will discuss the pros and cons of each management style.  Do you have any questions about flexible seating?  Any topics you would like included in the blog series?  Please let me know! Leave me a comment to let me know what has worked for you, what your flexible seating struggles are or what your questions are.  I would love to hear from you!
And be sure to download the FREE Flexible Seating Information Guide below!
Grab Your Freebie!
Grab this freebie to explain WHAT Flexible Seating is and WHY it is so valuable!