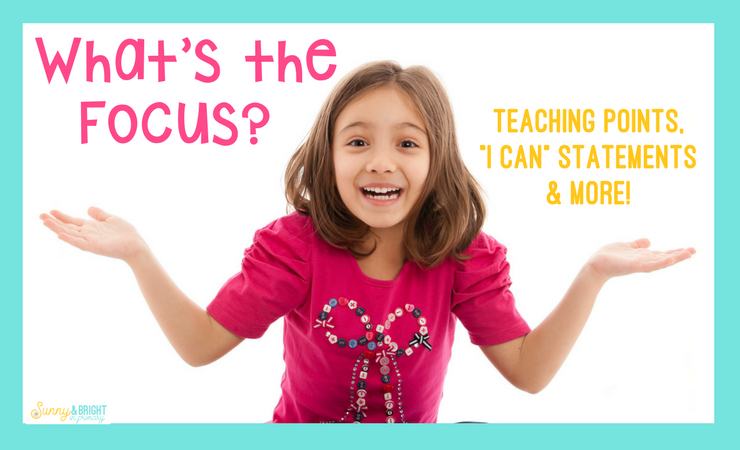 The other day we had a district walk-through.
Good times.
It is also "observation season".  We are just finishing up our annual formal observations.  So now it is time for the "pop in" informal observations.
Anyway, the district walk-through got me wondering if "board configuration" is something that is in the everyday vocabulary of all teachers.  Is this a "thing" everywhere?  Or is this theme concentrated in my district?  I would love to know.
Anyway, "board configuration" is a big deal around here.  A big, big deal.
It is the focus of many walk-throughs.  Basically, having everything posted on the board is a big deal.
I get the general idea that when someone (an adult) walks into a classroom and can see teaching points posted it helps them to understand what is going on in the classroom.  But I also have a problem with posting anything in my classroom that isn't meaningful for my students.
It gives me hives.
So, a few years ago I came up with a solution for this problem.  I created my own Focus Wall… and I LOVE it.  I really do.
I've written about my Focus Wall before.  If you haven't read about it you can head over HERE for a quick, easy read that explains my system.  Basically, I put everything that my students need to help them learn in one place.  One cute, easy to manage, organized place.
I designed my Focus Wall when I was teaching first grade and it was perfect.  I used it last year in second grade and brought it back to kindergarten with me this year.
While sitting at lunch the other day one of my teammates was talking about her upcoming evaluation and how she was trying to "check all the boxes".  She mentioned how she never knows how to make it clear to classroom visitors that her students understand what the teaching point is and what the lesson is about.
I shared my totally ridiculous strategy with her and I thought I'd share it with you too.  (In case you are short on totally ridiculous strategies that make your life easier.)
So, at the beginning of any lesson… or when I need to refocus my students, or when an administrator walks in and I need to "check the box" (sad, but true) this is what I do:
I wave my hands around in a circle (in a totally overdramatic way) and call out "HOCUS POCUS!"  Whenever I do this my students answer back with the question "WHAT'S THE FOCUS?!"  And they point at the Focus Wall and then I explain the focus.
So, it might look sound like this:
Teacher: HOCUS POCUS! (waving around hands)
Students: What's the focus? (pointing at the focus wall)
Teacher: The FOCUS is our 5 senses.  We are going to learn all about how our senses help us make observations about our world.  (pointing at teaching point and vocabulary card that are posted on the focus wall)
I have to admit, I feel pretty silly typing this up as a "How To".  But I'm telling you… it works so well!  My students always know what the focus of the lesson is.  This helps them to stay focused on exactly what we are learning and tells them what they should be "thinking about".
It also helps them to understand what the Focus Wall is.  I just absolutely hate the idea of it being "visual clutter" for them.  I want them to understand that this is where I put important information about wheat we are learning.  They grow into this throughout their kindergarten year.  But, I feel like this is such a simple way to train them.  Then, when they get to first grade (and all the grades!) they will understand that the teaching points are posted to help them focus on what they are learning.
And, while I always want to do what is best for my students (not the adults that might be watching) this is a great way to communicate with the adults that might be observing as well.  It shows that you know exactly what standard you are working on, that you do help your students process new information and that you have a developmentally appropriate way of doing so.
It works. I swear.  The kids love it.  They don't realize that it is anything important.  They just think it is one of our fun, "call back" rhymes.  But they actually know what they are learning and why it is important.  When you start doing it all the time the kids get really good at telling you what they learned at the end of a lesson or the end of the day as well.
And it's cute. 😉
Do you have any great ideas for helping students understand your teaching points?  I would love to hear them!  Leave your ideas in the comments below.
If you are looking for a Focus Wall resource you can find mine HERE.
Kinder Close Reading
Grab your FREE 45 page guide to Kindergarten Close Reading! Close Reading can and SHOULD be a fun part of your kindergarten day!
This guide includes EVERYTHING you need to get started right away!