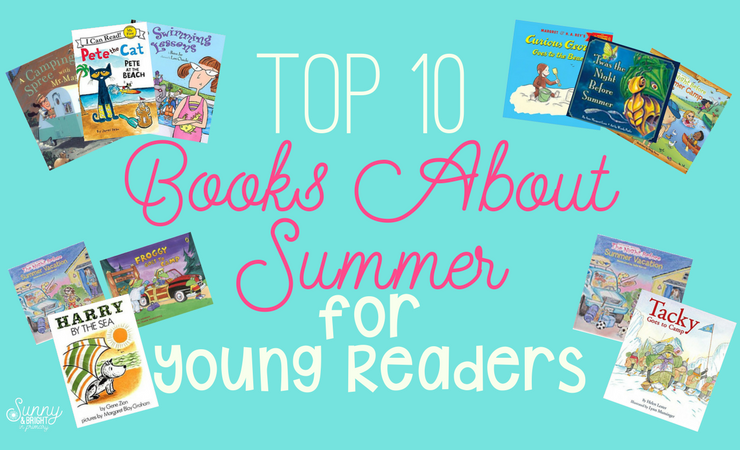 Happy Summer!! I hope that it is hard for you to read this post because the sun is shining so brightly in your eyes and your fingers are having trouble scrolling because they are slippery from applying sunscreen.
So, assuming that you are going to make the most of every moment this summer I am going to keep this short and sweet :).
I wanted to pop on quickly to share some of my favorite books about summer for young readers with you… maybe you are teaching summer school, or have a house full of your own children like I do 🙂  Maybe you email your students summer "to do lists".  I try to do that every week or two… If any of that is the case, you might find this little list of my favorite books about summer helpful.
I am sure that you can find these books at your local library.  I have seen just about all of them at my library… but I am also including my Amazon affiliate links in case that is easier.
The Night Before Summer Vacation by Grosset & Dunlap: I LOVE this series. These "Night Before" books are always so cute.  They are quick, fun and easy to read.  They always make my kids giggle and this is no exception.
The Night Before Summer Camp by Grosset & Dunlap – See above. 🙂  Just as cute.  If you enjoy the series you might as well stock up!
'Twas the Night Before Summer Vacation Wong Herbert Lee- This is the same idea.  Cute, funny & fun to read.
Froggy Goes to Camp Jonathon London- I LOVE Froggy.  My teaching BFF doesn't like Froggy.  Can you believe that?  I find it shocking.  I think Froggy is so endearing… Different strokes for different folks I guess.  If you are a Froggy fan like I am you will definitely want to read all about Froggy's antics at summer camp.
Swimming Lessons Betsy Lee- Cute little story about a girl who is scared to swim.  (F.Y.I: This one is a little long.  Skip this one if your kiddo hasn't build up "story stamina" yet.)
Pete the Cat at the Beach James Dean- Pete is another one of my favorite characters.  You can never go wrong with Pete.  He is just as cool as ever in this summer story.
Harry by the Sea by Margaret Bloy Grahm- I really like this classic story.  My curriculum uses Harry the Dirty Dog as one of our "Star Books".  (These are the books that we read over & over again.  We use these books for everything… More info on that in another post.)  My kiddos love Harry.  He is so lovable & clever.
Tacky Goes to Camp (Tacky the Penguin) Lynn Munsinger- Tacky!  Don' you love Tacky?  I'm noticing a theme here, huh?  I can't help it… when I fall in love with a character I can't get enough of it… and I bet your kids are the same way!
A Camping Spree With Mr. McGee by Chris Van Dusen- This book is so much fun!  It is really great for kids of all ages.  It is sweet, silly and fun to read.  It has great illustrations and would be perfect to take on a camping trip to read aloud by the campfire!
Curious George Goes to the Beach H.A. Rey- Let's finish out the list with one more classic character.  George is just as curious and naughty as ever.  This is not the same version of George's trip to the beach that is featured on the PBS cartoon.  If you are able to find that it might be fun to watch the show and read the book and then talk about how they were different.  It would lend itself to very natural comparing & contrasting (and it would be fun).
Feel free to email this list to your students or pass it along to any parents you know.  We've gotta keep our kiddos reading however we can!  You can find my last post: Easy Ways to Keep Your Students Reading This Summer HERE.  I would love for you to go check that one out too!  That post includes a great summer reading FREEBIE as well.
So, that's it for today.  Keep the kids reading and find something wonderful to read yourself!  Let me know if you have found some other great summer books that I can send out to my kiddos in my next email.
Keep Learning Playful!
Download FREE "Play & Learn" Play Dough mats today! Keep learning playful & developmentally appropriate!