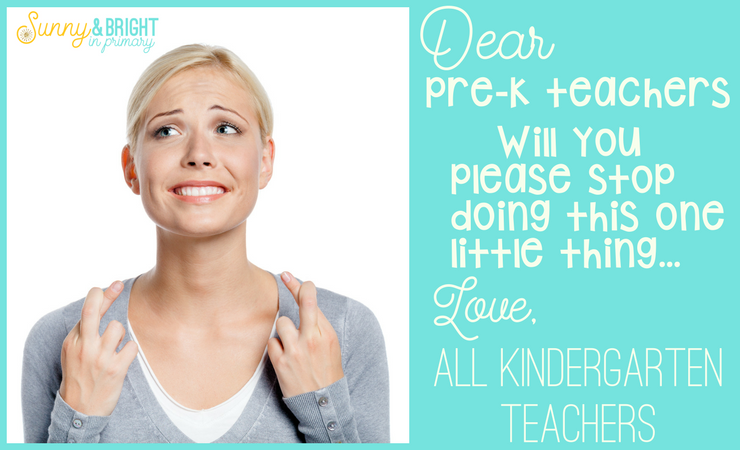 Let me start this post by saying, I think pre-k teachers are amazing.  I love them.  For realz.  I taught pre-k for seven years.  Teaching pre-k is hard, important work.
All four of my own children went to the same preschool and when I say I love their preschool teachers, I mean I LOVE their preschool teachers.  They were superheroes in my eyes.  They not only taught my babies colors, shapes and numbers…they taught them about friendship and kindness – heck, they even potty-trained two of them! Saints, I tell you!
They hugged my babies and wiped their tears. They also hugged ME and wiped MY tears when I had to leave my babies and go back to work before I was "ready". Seriously, superheroes!
So please, do not think for one minute that this post is a "pre-k teachers don't know what they are doing" post.  In fact, in the area where I teach kindergarten we have many students that do not go to pre-k.  As a kindergarten teacher, I can usually spot those students in the first five minutes of the first day of school.
Many of them still do fine in kindergarten, but in general our pre-k graduates are just a little more confident, a little more "ready" to jump into our full-day program.
Okay, so, now that we have that straight (I love pre-k and pre-k teachers) there is this one little thing that I wanted to bring to the attention of pre-k teachers (and parents for that matter!):
When I started teaching (wow, this is going to age me…) there were still many students entering kindergarten who could not write their name independently.  It wasn't really expected "back in the day".  Now, I still have a few students each year who are not able to write their name.  But the vast majority of students begin kindergarten with some letter knowledge and some writing skills – especially the ability to write their name.  Which is wonderful! 
However, the vast majority of the students (at least in my area) write predominantly in upper case letters… and this is a really, really, really hard habit to break.  My team and I have discussed this many times and have realized that we spend most of the year working with our students trying to get them to write in lower case letters.
The struggle is real.
Now, I don't know if it is universally true of pre-k programs, but I do know that in my area, pre-k students are taught how to write upper case letters first.
When my youngest daughter was three her "homework" was to trace her name each night on a sheet where it was printed in all upper case letters.  Ugh.  (Also, maybe ix-nay on the omework-nay for 3 year olds…just sayin'…)
For a long time my team and I have wondered (and daydreamed and fantasized) about what would happen if pre-k students were taught & encouraged to write with lower case letters first?!?!  (Can you hear it?  The choir of angels singing?  Angels…Kindergarten teachers… close enough…)
It seems like if students started writing with lower case letters, then we could introduce when/where capitals are appropriate slowly throughout kindergarten & first grade.  Students (in general) don't have a hard time identifying/recognizing capital letters… the lower case letters are where we see more struggles. So again, it seems like learning these letters first (or focusing on them more) makes sense.
And if that seems too "out there" then I'd like to make this one teeny, tiny request…
Dear Pre-K Teachers (And Parents),
Will you please stop doing this ONE, TEENY, TINY THING… Will you please stop teaching (and/or reinforcing) new writers from writing their names in all capital letters?  (Pretty please?  With Sharpies and flair pens on top?)  It takes us a solid year to break this habit.
Thank you for all you do… For teaching them to raise their hands and to sit in circle time, to wait their turn and to use "gentle hands"… and a HUGE thanks for your part in helping out with the bathroom routines.  You are saints.  
Love, All the Kindergarten Teachers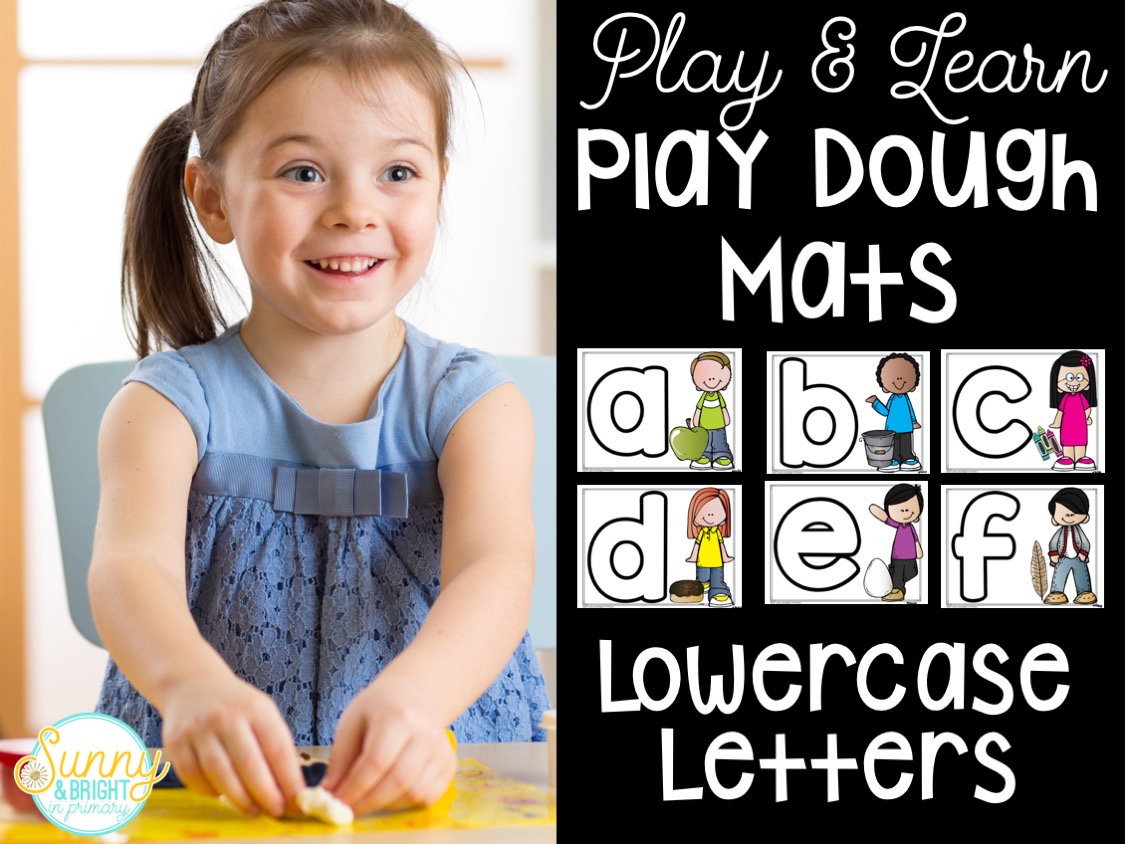 ***I would love to help you work on lower case letters with your little guys!  You can download a set of super-cute, fun, FREE Play Dough mats HERE.  You can work on fine motor skills and lower case letters by having your students roll Play Dough into the shapes of the letters.  Simply print, laminate and add Play Dough.  Enjoy!***
<script async id="_ck_241817″ src="https://forms.convertkit.com/241817?v=6″></script>
Kinder Close Reading
Grab your FREE 45 page guide to Kindergarten Close Reading! Close Reading can and SHOULD be a fun part of your kindergarten day!
This guide includes EVERYTHING you need to get started right away!