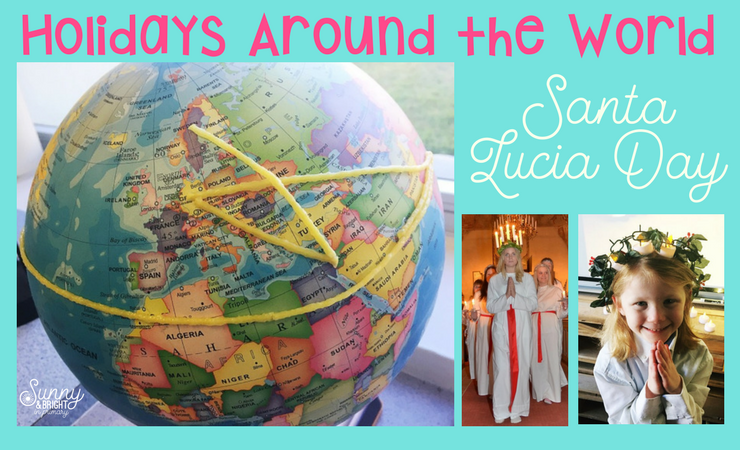 Our Holidays Around the World unit is in full swing!
Today we learned all about Sweden and the focus was Santa Lucia Day.
This is one of my favorite lessons to do with my students because they are always SO fascinated with the Santa Lucia traditions.
I always use informational text articles to base our lessons around.  I have written a Santa Lucia version for K-1 and a differentiated version for 1-3.  I love to use these articles because they use very simple sentence structure, large fonts and beautiful photographs to help young students really understand the content.  (No fluff.)
I tend to just project the articles onto my SMART board.  This eliminates the need for copies and makes it easy for us to use these texts for Shared Reading.
So, in the articles we learn about how Santa Lucia Day is all about kindness and how people in Sweden look for ways to be kind on Santa Lucia.  Then, I have them turn and talk with a partner and talk about ways they could be extra kind.  (Depending on the amount of time we have we either quickly name some of these kind acts or come up with a class list on chart paper.)
Then, we learn about how Santa Lucia Day happens on the darkest day of the year.  We talk about where Sweden is located, look at it on the map and a globe and discuss how dark the days are this time of year.  Then, we talk about how candles and light are a symbol of Santa Lucia.  How "bringing light to the darkest day of the year" is a symbol of bringing happiness and kindness to the world.  (Sometimes they get it… sometimes… notsomuch… but it's a nice talk either way!)
Finally, we talk about how the children dress on this special day.  We learn about how the oldest girl in each family wears a white robe with a red sash and a crown of candles on her head.
I like to show the kids THIS VIDEO of  girls in Sweden singing in church on Santa Lucia.  They are always fascinated (and so am I… every time!)
Then, we dress up one of our girls as Saint Lucy.  This is SO MUCH FUN.  For real, I look forward to it all year.  (I also leave the outfit out after the lesson so that everyone can have a turn dressing up.)
I used to stress about this kind of thing… "where am I going to get a white robe and red sash…"  These days I have learned that simple is better… and I've gotten pretty good at simple 😉
Our "costume" is made up of a white, button down mens shirt, a red ribbon, a strand of greenery, and a few battery operated votive candles.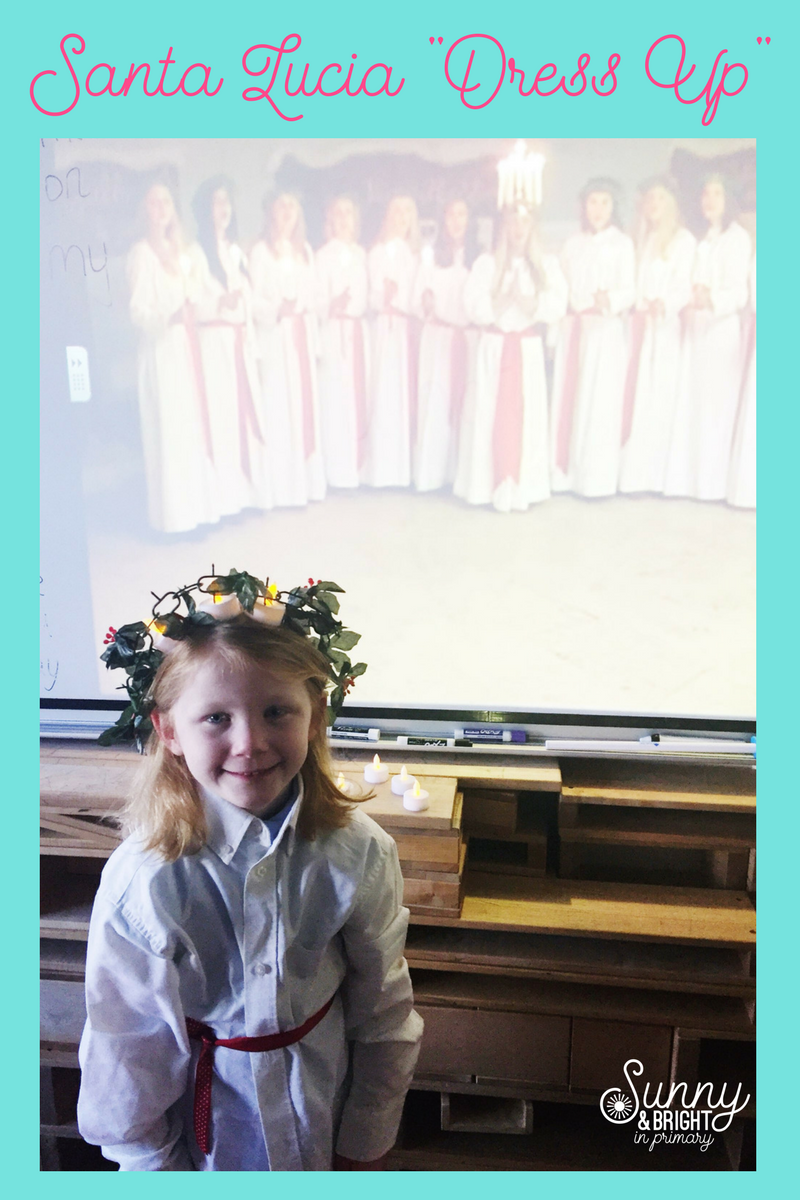 But you could totally improvise and use whatever you have on hand! I have used white t-shirts and made my "sash" out of everything from yarn to a men's tie.  The kids DO NOT know the difference OR care!  Promise.  They are just thrilled with the idea of the whole thing.
Then… the best part of all… the kids make their own "Saint Lucy" and "Star Boy" hats.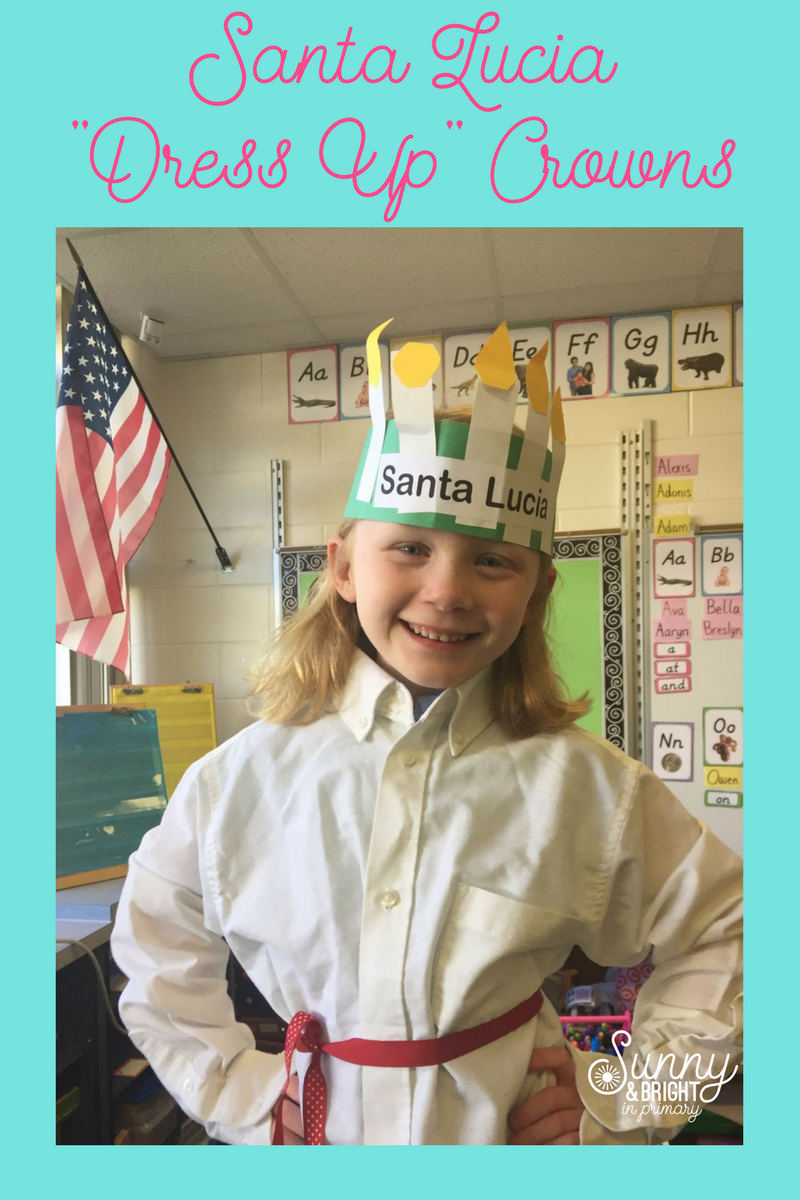 Years ago, I used to spend forever having the kids cut leaves and make "crowns" of greenery… Then I realized that was not worth it.
I would give you the pattern for this crown… except there isn't one.  I cut a thick piece of green paper (on the paper cutter) and a bunch of white rectangles for candles (again- paper cutter).  The kids glue it all together and then make their own yellow "flames".
I also have the boys make "star boy" hats.  I am sorry that I don't have a photo.  (I will try to get you one.)  Basically, I staple a large white sheet of paper into a cone shape and have them draw stars on it.  (I usually have a die cut star for them to glue to the top.)
And that's it.
So simple.  So easy.  And so memorable.  The kids LOVE it.  They remember it and they really, really enjoy it.  And, since the prep time is about 5 minutes, so do I!
If you are interested in the informational text units you can grab them HERE and HERE.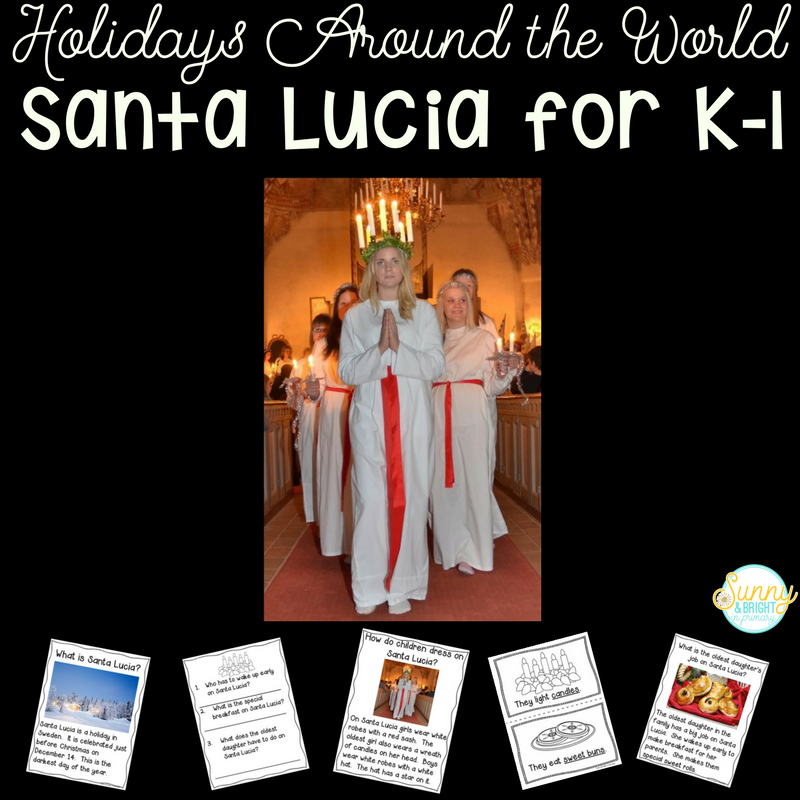 Do you have any Santa Lucia ideas or activities? I am always looking for something new and fun to enhance our learning.  I would love to hear your ideas!  Please leave a comment below and let me know about your favorite Holidays Around the World activities!
Check back tomorrow for some ideas for Diwali, Christmas in Russia & Christmas in Italy!
And, if you haven't already, check out THIS post.  I've hooked you up with TONS of brain breaks, video clips and songs... Links galore for all your Holidays Around the World needs 🙂
Kinder Close Reading
Grab your FREE 45 page guide to Kindergarten Close Reading! Close Reading can and SHOULD be a fun part of your kindergarten day!
This guide includes EVERYTHING you need to get started right away!