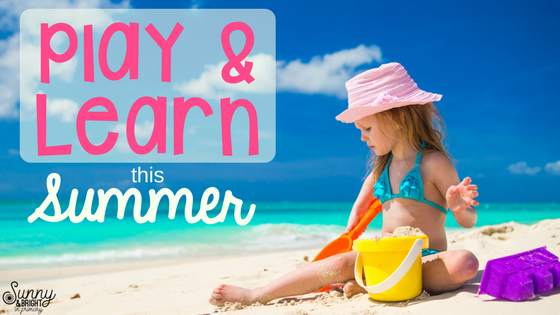 Can you feel it?  The out-of-control feeling in the air?  Do you see it?  The frenzied, wild-eyed look in the eyes of all the children you see?  Can you hear it?  The unbelievable decibel level of every cafeteria, playground, hallway and bathroom in your school?  It can mean only one thing… Summer is coming!!
And it's coming fast!  If you are anything like me this gives you very mixed feelings.  I can't help but feel a wave of excitement and relief (I mean, I am human… and it has been a long year!) but I also get nervous at this time of year.  There is still so much to do: reports to write, grades to finish, awards to prepare, slide shows to create, festivals to attend… the list goes on and on and on…
And THEN I look at my sweet students and I get all the feelings – you know what I mean.  All the primary teacher feelings.  Are they ready?  Did I teach them enough?  Will they retain it all over the summer?  Are they ready for next year?  Will they be okay this summer?  Are they going to get what they need?  What more can I do?  I only have a few more days with them…what else can I do to make a difference?  (It's exhausting isn't it??)
So, when I start spiraling (because this time of year, I always start spiraling!) I slow myself down and try to think of some simple things I can send my little students off with to ensure that they have a successful summer.
I've spent years trying to figure out how to help my students retain everything they've learned during the year and making sure they are ready for the next year.  I've tried it all.  For many, many, many years I taught summer school.  Which was very beneficial to the students that qualified, but it wasn't really the answer I was looking for…for a couple of reasons.  First, not everyone goes to summer school.  It is great for the kids that attend but that is a pretty small percentage of the students in my district.  Second, it is exhausting to do year after year…I did it for many years but I felt there had to be other options.
So, I am here to happily announce that I have finally found an answer that I am really, really happy with!  After several years of trying different summer "take-home packets" I think I figured out what works for my students and I and I am hoping it will help you and your students as well!
I spent weeks and weeks and weeks creating summer packets for young students that are completely based on play!  I am so excited to finally have developmentally appropriate, FUN activities to offer my students and their families to ensure a summer of playful learning!
So, my plan is to write a series of blog posts that will give you some easy, ready-to-go ideas that you can offer to your students and their families.  Then, you will be able to send them off for a summer full of playful learning and YOU will be able to keep your sanity at the end of the year!  (Well, that might be wishful thinking…but you will at least be able to check some things off your end of the year "to-do" list with some freebies and ready-made resources.)  So, check back tomorrow for some easy ways to keep your students reading this summer and a great free resource!
Keep Learning Playful!
Download FREE "Play & Learn" Play Dough mats today! Keep learning playful & developmentally appropriate!