I have spent the last three months trying to come up with the first sentence for this blog. I guess that was it… kind of anticlimactic, huh? The self inflicted pressure of "how to start" has been very stressful. It has also been kind of ridiculous. I certainly never have a shortage of things to say! (My 2 year old told me I am a "chatterbox". She is correct.) So I am going to let this be the awkward beginning and I'm going to just jump in. Does that work for you? Great. Let's go.
This summer was a very, very busy one. Despite my best efforts, I didn't get into my classroom once this summer. With a jam packed pre-service week and 4 kids at home (making it difficult to work late) I was very worried about getting everything done… but somehow it all always gets done.
This is what I walked in to that first morning.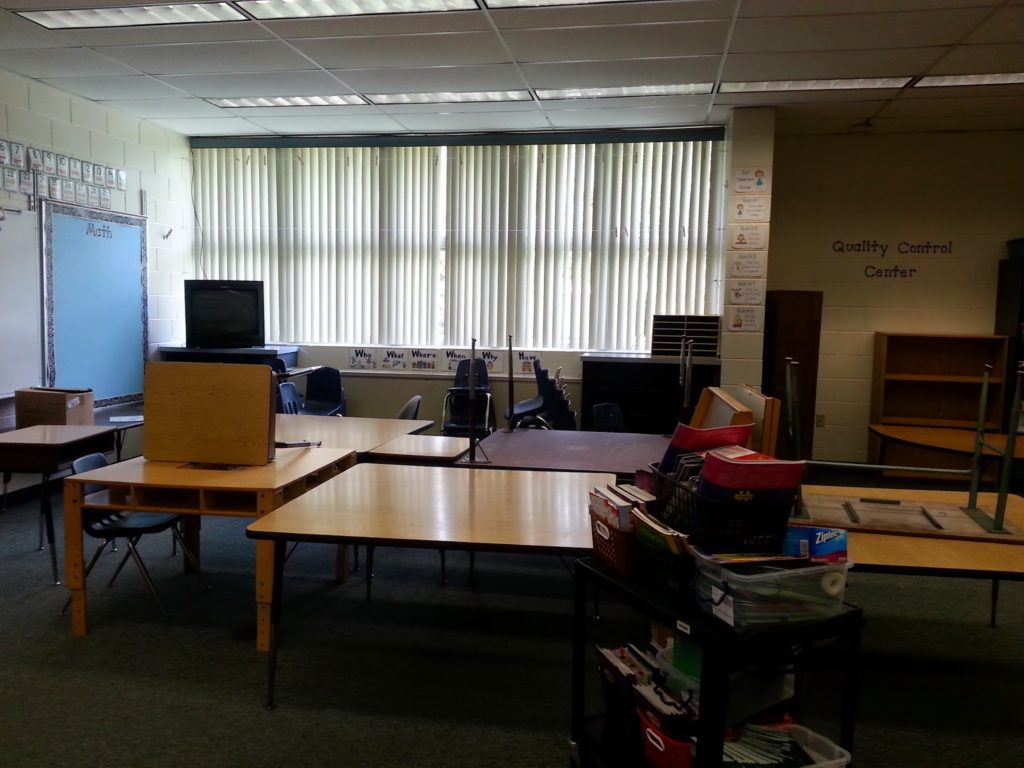 Just getting some light in the room and spreading things out made me feel a little better. Which is great, since that's about all I had a chance to do that day.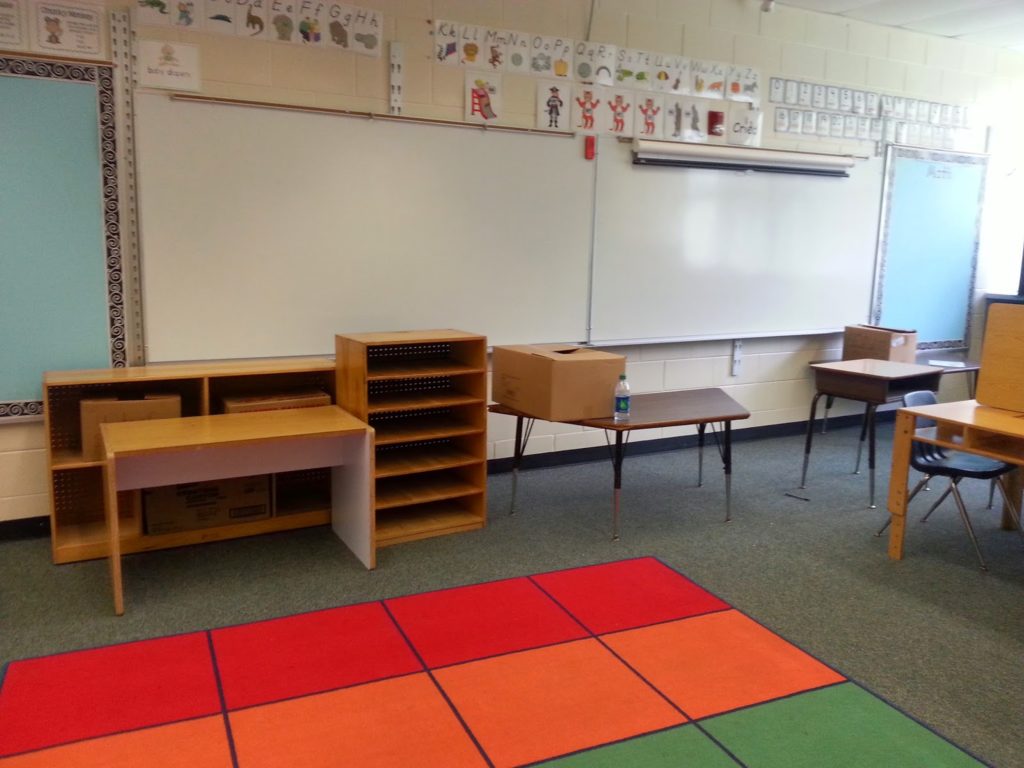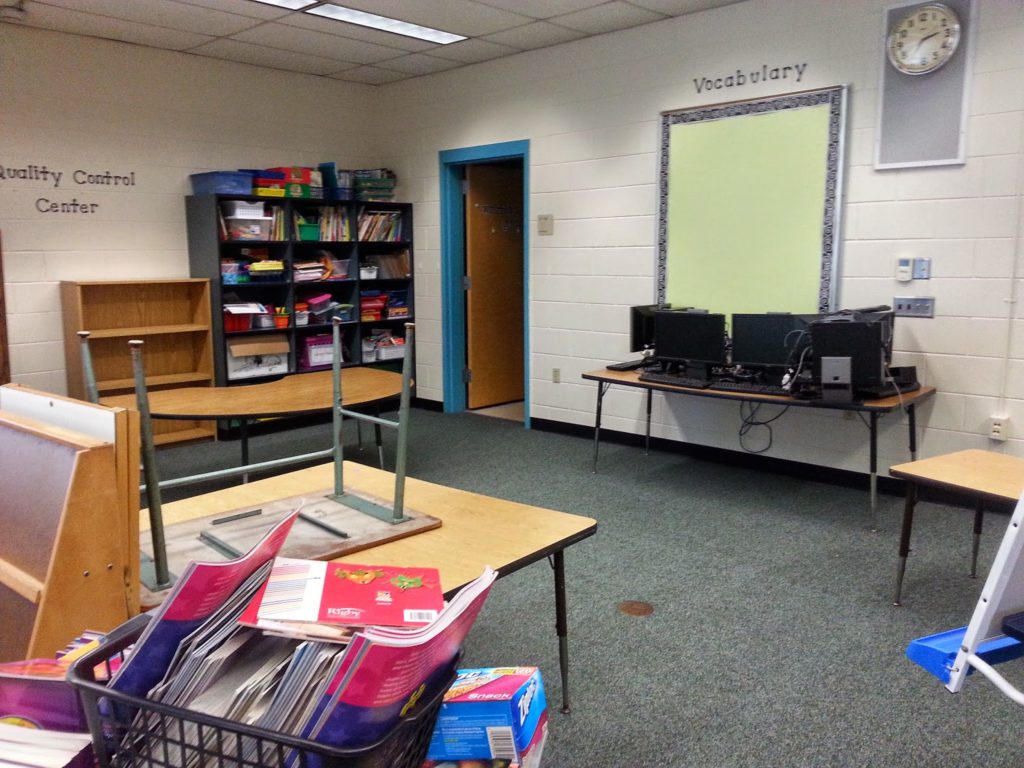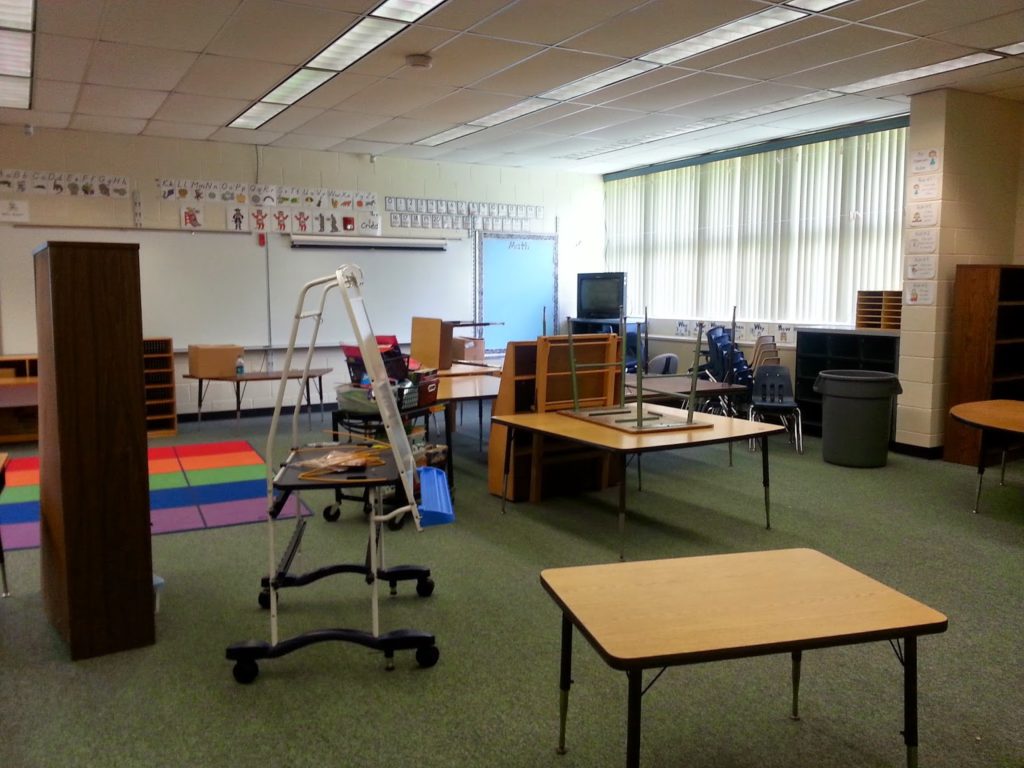 Last year, I was new to this school. I spent the entire year scouting out the furniture and books I needed. After a year of begging and borrowing (I didn't have to steal anything!) I had LOT more "stuff". It will be great for teaching but I had totally reconfigure my room. I am really happy with the way things turned out.
I have these HUGE square tables in my room. Since I don't want any of my little guys to have their back to the front on the room, I have the entire room set up diagonally. It's very different but I've decided I like it.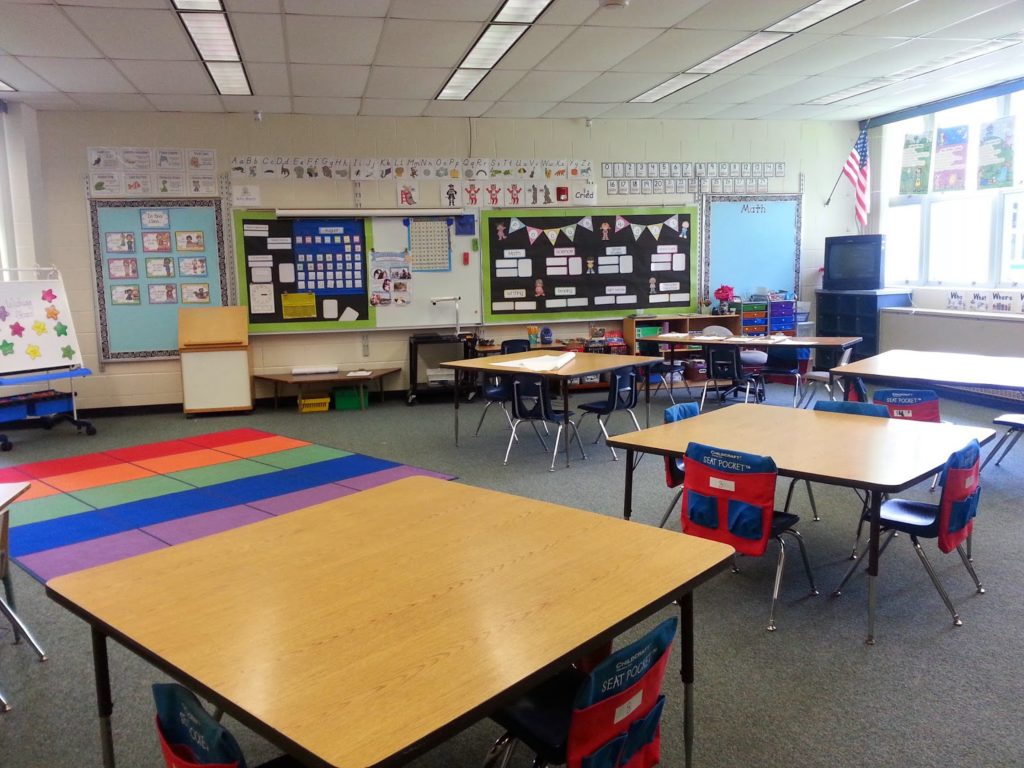 Last year I had the SADDEST little library. I didn't have any bookshelves so I had all my book baskets on little wire crates. Since I didn't have very many books it worked (kind of). I was determined to have a "real" library this year. I am SO happy with how this little area turned out.
I created some new adorable new library labels to freshen things up and I am continuing to use the word wall set that I purchased last year. (It is so strange to see a word wall with no words isn't it? By day 3 it was looking much better!)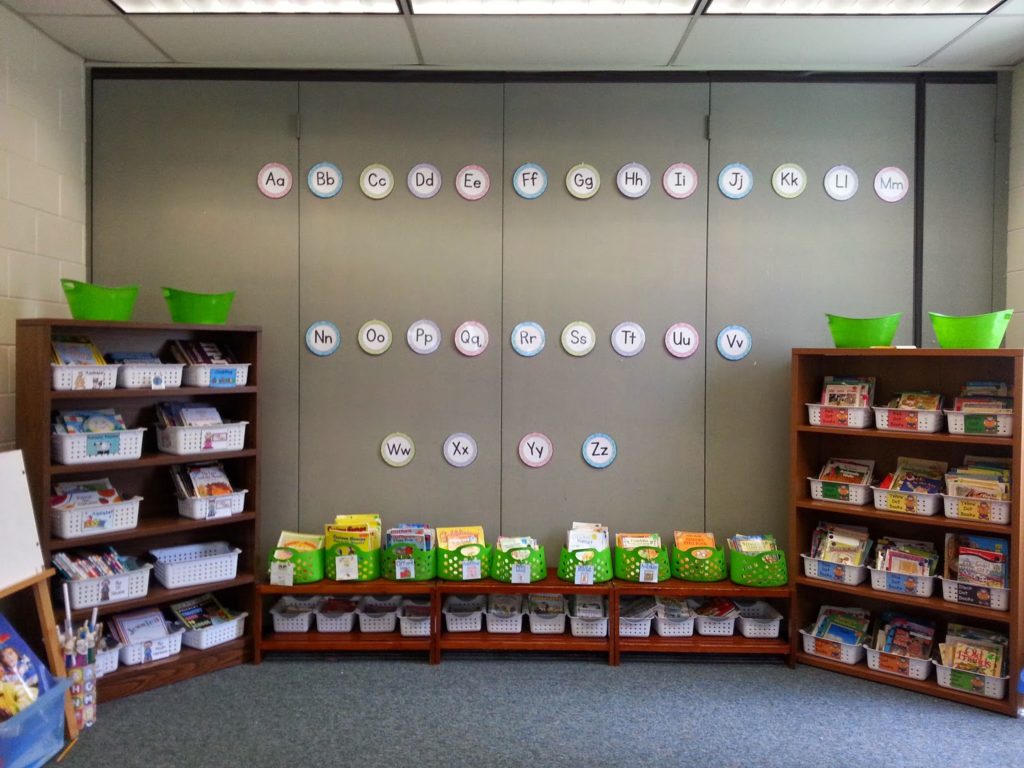 I really like having my classroom feel open and bright. I have to fight the urge to fill every little space but I think things work better for me this way. I tried to keep repeating "open and bright" as I set things up… gotta keep myself focused!
Speaking of focused, my
favorite
new addition to the room this year is my
focus wall.
I really, really love it! I will explain why in my next post but the black board in the front of the room gives you a little peek at it.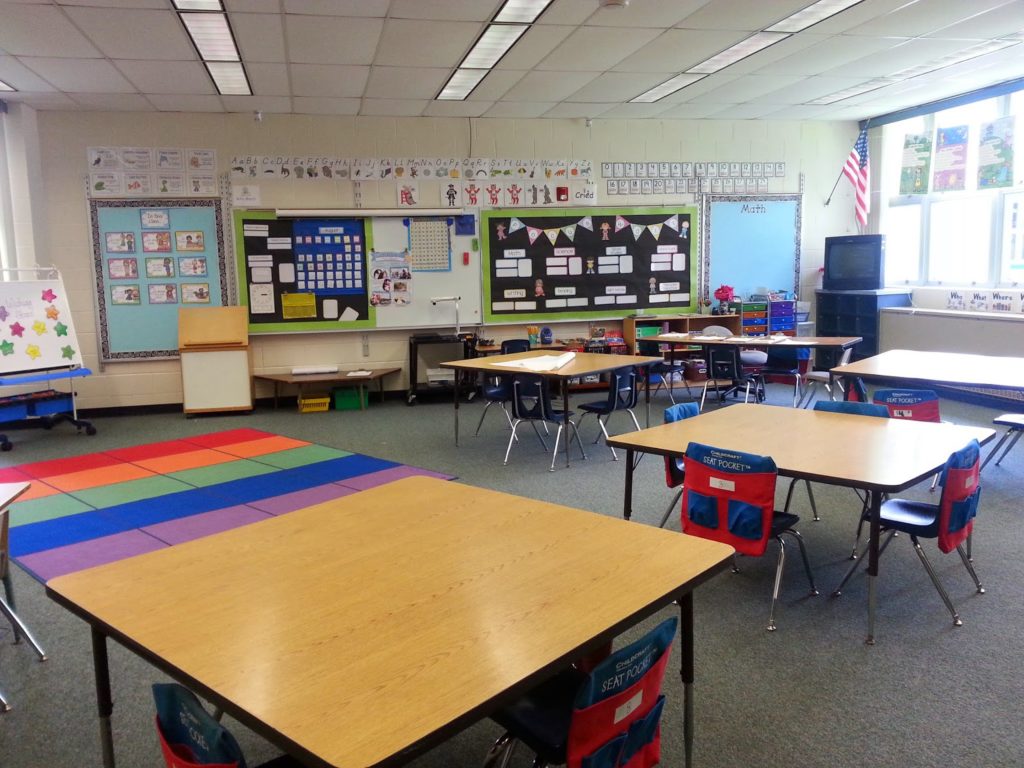 This is a little area in the back of the room where I have literacy centers and books stored. The students don't use the big, dark shelves. I take things out for the week and set them up. The two wooden shelves are math materials. I created individual boxes of manipulatives for the students to use this year. The bright colored baskets will hold math center games for the week. The "Quality Control Center" is still up from last year. I'm not sure if it is going to work in this location yet… I am always talking to my kiddos about "quality work". I used this little "quality control center" to post examples of "high quality work". I am thinking I might use it for posting rubrics instead this year (?).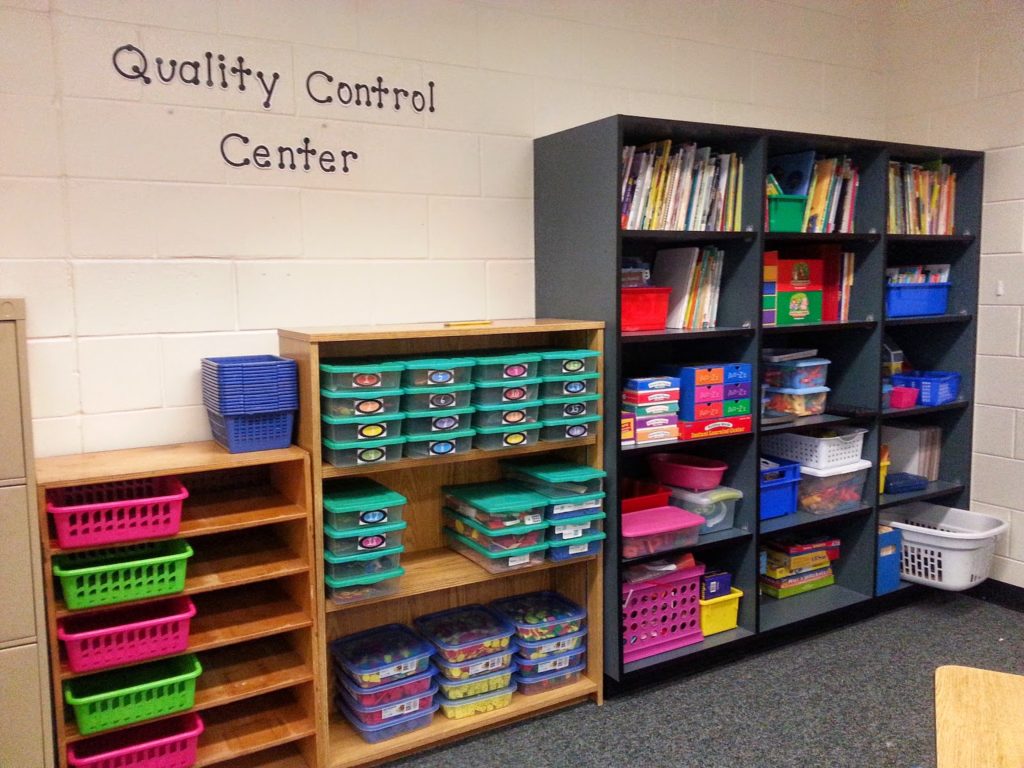 Here is the view from that back corner. (With a crooked table… pretend you didn't notice that, okay? Thanks.)
I decided the big table I had my computers on last year was just too bulky. "Open and bright, open and bright!" Instead I moved the desktops to desk tops. It takes up much less space and is working great so far!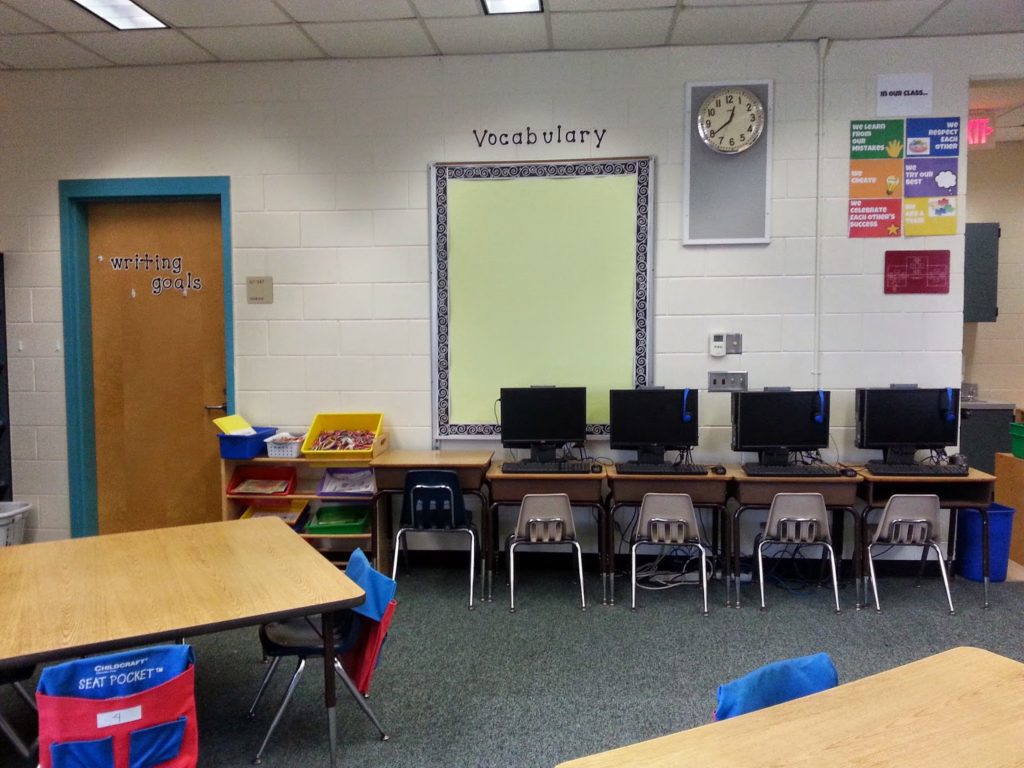 As always, it's a work in progress, but I am happy with the way things are starting out. Every year I find I need to "live in" my room for a month or two to figure out if I need to make changes to help my little ones to be more comfortable and successful. This year I KNOW I'll have to make lots of changes since the air conditioning system is going to be replaced in January. This will mean new shelves (yea!) and a giant system where my math shelves are right now (boo!). I am also really hoping that this will be the year that I get my SMART board! So, things won't be like this for long but it's a good starting point!
In the next post I'll go over the decorations and charts on the walls. Thanks for stopping by! 

Kinder Close Reading
Grab your FREE 45 page guide to Kindergarten Close Reading! Close Reading can and SHOULD be a fun part of your kindergarten day!
This guide includes EVERYTHING you need to get started right away!