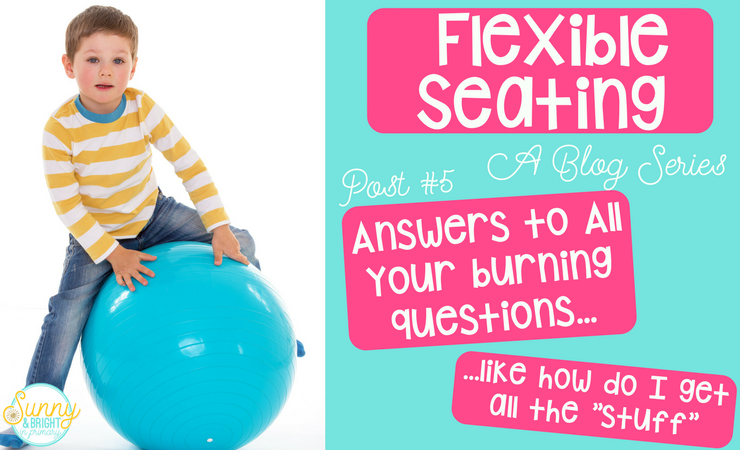 Welcome back!  Hopefully you have been with me since the beginning of this "blog series journey"!  This is the fifth and final (for now) post in this series.
You can catch up on the series by reading:
That brings us to Post 5… The "here & now".  I wanted to end this series with a post that would answer any questions that you might have (or that I often get) about flexible seating and "wrap up" any loose ends… However, the questions that I have gotten so far (that have not been answer lined other posts) have been resoundingly about funding and/or how I found the seating for my classroom… So, at this point, that is what this post will be mostly about.  HOWEVER, if you have more questions, PLEASE leave them in the comments or email me!  I would be happy to help you individually – but I would also be more than happy to update this post whenever I get questions that I think might benefit other readers… So, that is my disclaimer, that I hope to update this post if/when I have more questions to answer.
Here we go!
Do lots of teachers at your school have flexible seating in their classrooms?  Is this common at your school?  Is your administration supportive?
I was the first teacher at my school to start using flexible seating (as more than just a "comfy seat option" here or there).  At the end of the 2015 school year I began talking to some of my "teacher BFFs" at school about the idea.  Several teachers expressed that they were very interested in learning more or getting started with it but my friend Rachelle and I were the two that were determined to "jump in" and figure out a way to make it happen at that point.
So, no… I would not say that it was "common at my school" but it was an accepted idea that teachers were interested in and excited about.
My administration has been very supportive.  At the time I was beginning my flexible seating "journey" we had a change in administration.  The principal that I had worked for for several years (who loved this kind of thing) was retiring.  We went for a few months with our AP as an "acting administrator" before being assigned a new principal.  I was very lucky that both my AP and my new principal have been very supportive as well.  My school is very good about the "if it works for you and it's good for kids then it is good" kind of general philosophy.  (I am very aware of how lucky I am.  I have not always worked in this type of environment.  It is heavenly.)
How did you get all the seating?  Did you have to buy it all yourself?  Did your school buy it all for you? 
I got my seating through a combination of begging, borrowing and stealing… Okay, not really… but it sure felt like that!
I bought a few things on my own…
Scoop rockers from Overstock.com (Although I have since seen them cheaper at Five Below and if you are lucky enough to find them at Walmart I hear they are very inexpensive there.)
Replacement yoga balls (for ball chairs) – See Post 4 🙁  I bought my replacements at Walmart (because they were cheap) but I do not recommend doing so.  I have since found some (child-sized) replacements on Amazon and there are some directions and "patch kits" that you can find online if you are handy.  (I am not.)
I got a few things from my school/district or from other teachers as "hand-me-downs":
Both the adult and child sized rocking chairs in my room are part of my school's furniture.  This year they are part of my kindergarten unit.  Last year I was still able to find rocking chairs at school to borrow because there always seem to be some that someone is willing to share at our school.
The tables that I use (as my "floor table" and "standing table" are both just classroom tables that were bought by my school.  I took the bottom half of the legs to create the "floor table" and raised the legs to a taller setting to create my "standing table").
I was given pink "cushion chairs" as hand-me-downs by a retiring teacher a couple of years ago.  (Always be on the lookout.  These were already cute – but it is amazing how you can "cutesy-up" almost anything with some spray paint and fabric dye these days.  (Or so I'm told… I'm not handy or crafty – for the record…)
ALL my other seating (all the really cool stuff) was purchased through grants or outside funding that I was able to find!  It might sound intimidating but I want to really encourage you to look into this.  There is a lot of money out there and it is not nearly as hard as you think it will be to get your hands on it!
What kind of outside funding sources did you use for your flexible seating projects?
Any kind I could think of!  Seriously.  I wrote several Donors Choose projects.  I wrote several grants.  I asked for money from our PTA (there is not a lot of money available through our PTA but I was able to get about $100 per year).
What are your best tips for writing a Donors Choose project?
I am going to write up a separate (much more detailed) post about this soon… but the "short answer" is:
keep your project small (under $500)
look for "match offers" (you can search for these on the home page of Donors Choose)
try to always keep a project up –  You will be so surprised at how many projects are "flash funded" in an area (For example a business will just fund every project in a certain city or area code).  You never know when it is going to happen.  I have missed "flash funding" by less than a week two different times and I am still kicking myself a year later!
remember that Donor's Choose is tax deductible and many businesses match the donations of their employees.  You might be very surprised at who is willing to donate to your project when you start "spreading the word"
follow Caring Classrooms on Facebook one of the ladies who runs this page works for Donors Choose (and is a full time teacher).  I have learned SO much from this page!  They have the BEST tips!
I can't find any "general" grants.  All the grants I can find are for specific themes (like STEM or economics).  How am I supposed to write a grant for flexible seating?
This is probably my favorite tip.  I like to keep a running "wish list" in my office of the things that I would love to have for my students.  Then I am always looking for different grant/funding opportunities.  When a company is giving away money for a specific topic or theme, I create a project that centers around that theme and includes items from my "wish list".  (Stick with me here…)
I have had great success doing this!  Last year alone I obtained $12,310 for my classroom in grants.  Here is a "rundown" of what the grants looked like:
Target – 4 different projects funded! Target was funding projects through Donor's Choose that supported health and fitness in the classroom.  I wrote a project about the need for more movement during the school day (for flexible seating options), one centered around helping students calm down and focus on instruction/have control over their bodies (for yoga books, DVDs and ball chairs), one about healthy choices (for playground equipment and wobble stools) and one for healthy snacks.
A local credit union was giving away $1000 grants for projects that supported financial literacy, so I wrote a project for second grade that centered around students paying "rent" for their chair/desk/seat and got classroom money sets and flexible seating options
A power company was giving grants for STEM projects – I was able to write a "Fairy Tales Fixer Upper" project where the students would read fairy tales and find STEM solutions to the problems in the stories.  (Obviously we had to buy lots of seating options for Goldilocks to test out 😉
Right now I have a Donor's Choose project that is receiving a Charles Schwab financial literacy match – I am asking for Melissa & Doug sets of  play food and wobble stools so the students can create their own restaurants and learn about setting prices and paying for goods and services.
Really, it just becomes a little bit of creative writing.  It is FUN.  The kids LOVE these projects…it gives you a chance to "think outside the box" and get your students the exciting materials they want and deserve without paying for them yourselves.  I have not found it difficult to get funding through these projects.  I don't think all that many people apply – maybe I'm wrong (?) But there seems to be a lot of money out there if you are willing to spend a little time tracking it down.  (OR ask a volunteer to help you with this… if you are lucky enough to have good volunteers…)
Okay, so what are your other questions?  What have your experiences been?  Let's keep the conversation going!  We can help each other continue to work through this.  I would love to help you in any way I can.  Leave a comment below to let me know what other questions you have, what you need more information on or how I can help you!
Make sure that you've downloaded the Flexible Seating FREEBIE below.  It is the PERFECT, reader-friendly summary of all the research that supports flexible seating and why it is so important.
If you need any other Flexible Seating resources for your classroom check out my rules posters and choice cards HERE.
Grab Your Freebie!
Grab this freebie to explain WHAT Flexible Seating is and WHY it is so valuable!