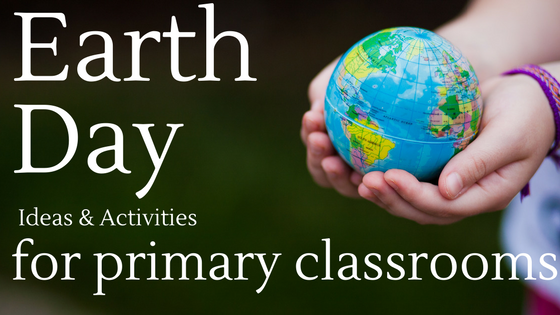 I always love teaching my class about Earth Day.  I am a little embarrassed to say that before I began teaching I was not at all "green".
The point is I care.  I care a lot.  Caring is kind of my thing. …
But in my "I care about everything" way of living… I kind of left the environment out… UNTIL I started teaching!  It's funny how these little people change us, isn't it?
My first year teaching I hardly knew what Earth Day was but now it is a holiday (and a full instructional unit) that I look forward to all year long!  So, I thought I would share some of my favorite Earth Day "tried and true" activities and some of the new things we are going to try out this year!
There are so many great books that we are enjoying this month!  Teaching second grade, I found some new books this year.  They go more in depth than the kindergarten books that I've used the past few years- so, I thought I would share a few of my favorites!
 Recycle: A Handbook for Kids is fabulous.  This is the book that we have used the most.  It is packed with information, just like all Gail Gibbons books.  You can use it to teach a lesson on text features or informational text.  It is also great to use as a mentor text for informational writing.  (I have 3 copies of this book and they are all always being used!)
Michael Recycle is such a cute book!  It's about a little superhero whose superpower is teaching people about recycling.  The kids loved it.  It led to a cute class discussion about how we cold be earth superheroes too!
Last week we also made "Recycled Robots".  I need to hunt down more photos… but how cute is that little guy?
Okay, here are a few more quick things I want to share with you!  First, some of my favorite Earth Day songs…
"Reduce, Reuse, Recycle" is a very simple song about the recycling loop.
"If You're A Kid…" is another one of our favorite songs.  My kids LOVE this one by Harry Kindergarten.
So… that's where we are in our Earth Day preparations… we are going to be planting seeds today (which is for our science fair project… but fits nicely in with Earth Day)!  What do you have going on for Earth Day?  I would love some new ideas!
(F.Y.I- This post contains affiliate links to books & products that I love & use in my classroom.)
Keep Learning Playful!
Download FREE "Play & Learn" Play Dough mats today! Keep learning playful & developmentally appropriate!