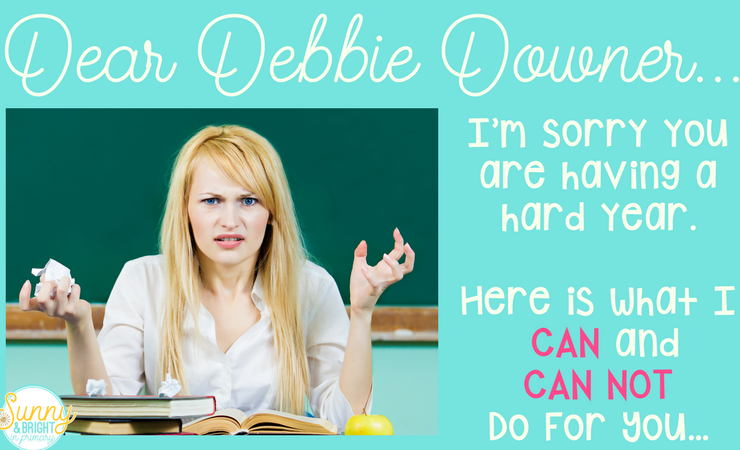 Dear Debbie Downer (a.k.a. My teacher friend/Colleague/Teammate/Nice Teacher I Met at a Training/Teacher in my Facebook Group/Girl I Went to College With Who is Now a Teacher… ETC…),
Let me start by saying, I get it.  Seriously, I get it.  Sometimes it is all just too much.  TOO MUCH, I tell you! Too many mandates, too many complaints, too many problems to solve all day long.
There are literally not enough hours in the day to do all the things you are required to do.  I get it.
It is ridiculous… and thankless… and that STINKS.
Here's the thing… Last year, I was you.  I was down.  I was the down-est I've ever been. It was awful.  I have been teaching for 18 years and last year was almost my last.
It was almost the year that did me in.
If I am honest, I am not even sure how I made it through last year… it got bad.  I knew it was bad then.  But now that I am on the other side, I realize just how bad it was… and let me tell you… it was REALLY BAD.
When I look back now I realize that I let myself get caught in the rip-tide.  I let myself get so, so tired… I kept trying to swim against the current.  You know what I mean… I was fighting fights I couldn't possibly win.  I used way too much precious energy being angry at "the system".  I cried and I complained.  (Oh my goodness, did I ever complain!)
…Now, don't get me wrong, the particular situation I was in last year was worthy of complaints.  No one blamed me for complaining.  People empathized and commiserated… friends even got angry and complained for me!
But, here is what I wish…
I wish that someone would have told me to stop swimming against the current.
Swimming against the current just makes you tired… and angry that it is so darn hard… and when you are tired and angry it is really easy to get caught up in the rip-tide… and then you get sucked out so far that you can't find your way back anymore…
At least, that's how I felt.
I told you it was a bad year.
So, here's the thing… I don't want your bad year to be as bad as my bad year.  I don't want to shake my head and say "Oh… That sucks…" and then watch you drown.
It hurts too much to watch.
So, here is what I CAN and what I CAN NOT do for you this year…
I CAN:
Get a babysitter on Friday afternoon and go to Happy Hour – for a "HAPPY" Happy Hour.  Let's laugh. Let's remember that this too shall pass.  Let's find humor in the absurdity of the situation… The first round of Chardonnay is on me!  (And the second… and maybe the third if you need it… We will make it work!)
Take little Johnny, little Jayden and little Jami Lynn when you need a break.  I will take your behavior problems when they are being a problem AND I will take them when they are NOT being a  problem.  If you just need a break because you have that class this year and you need to "farm out" a few friends send them my way!  Anytime.  For realz.  I can take them for a few minutes or a few hours.  I can take an "amazing helper" that you want to send BEFORE there is a problem (because you can't handle a problem today) or I can help redirect a friend that needs a little support when you have reached the point where YOU need a little support supporting him.  Any day, any time.  Send him/her/them my way.  (Just send a note so I know how long to keep them!)
Provide manpower.  Do you need help making copies?  Grading papers?  Cleaning up the disaster in your room that your "little Angels" created today?  I'm there.  No questions asked.  I would love to help.  I don't want to intrude- so when you say you don't want help I back off… but I am HAPPY to help!
Think Outside the Box.  I can help you look for solutions you may not be able to see on your own. I am able to look at things from the "outside looking in" and that can be very helpful.  Let me bounce some ideas off of you… if we talk through some new, unique ideas maybe we can figure something out!
But… Here's the thing… I CAN NOT:
Get sucked back into the rip tide.  I am so sorry.  I am empathetic.  I care… But I CANNOT commiserate to the point of getting sucked in.  I just can't.  It's too dangerous.  It won't be good for either one of us. I can't go down the rabbit hole with you.
I'm starting to think that flight attendants should greet teachers as they arrive at school.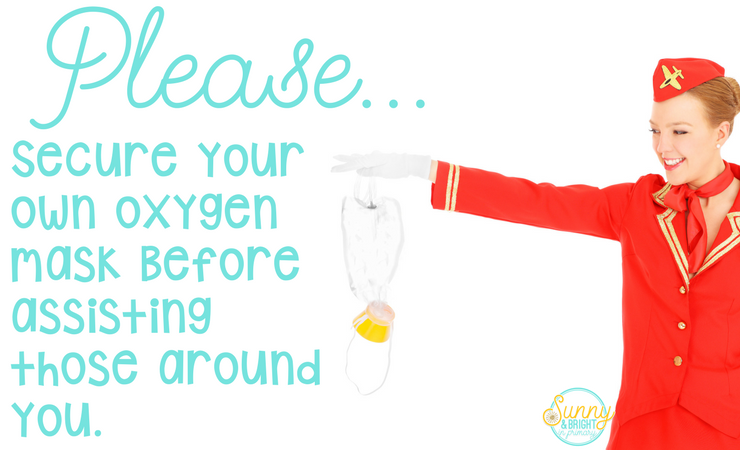 I need to talk to you, my optimistic, Sunny-and-Bright, teacher-reader, for a moment…
If you are anything like me (and I suspect that you are) it is probably hard for your sweet, helpful heart to stay "unaffected" by Debbie Downer.
I know that her moods greatly affect me.  I mean, I cry anytime anyone around me cries (including strangers).  I've even been known to tear up when the commercials for Hallmark movies come on…
How in the world am I supposed to "stay strong" when someone I actually like is feeling ____________ (fill in the blank here… sad, angry, frustrated, upset, overwhelmed, exhausted, unappreciated… you get the idea…)
Here is what I need you to remember…
There is a reason flight attendants ask you to put on your own oxygen mask before helping others… (and it's not because they want you to watch the people next to you suffocate!).
You cannot give what you don't have.
This is a lesson I have had to learn the hard way.
For realz.
I had nothing left last year.
Nothing left for my family, for my friends, for my colleagues, or for the students who needed "more" at the end.  I tried so hard to give so much… But I gave TOO MUCH.  I got tired and sick and sick-and-tired.
Don't do it.
Debbie Downer will be okay.  She won't be "more down" because you are happy.
You are allowed to be happy.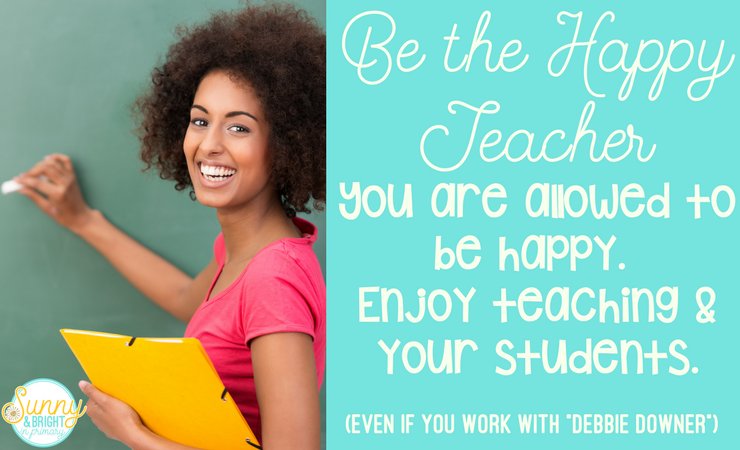 This is officially your permission.
I am giving it to you.  Right here, right now.
Be happy.  Laugh with your students.  Enjoy them.  Forget the mandates and the standards and the "not enough hours in the day".  Teach.  Smile.  Make memories.
Maybe you will inspire Debbie… Maybe not.
Be happy anyway.
Kinder Close Reading
Grab your FREE 45 page guide to Kindergarten Close Reading! Close Reading can and SHOULD be a fun part of your kindergarten day!
This guide includes EVERYTHING you need to get started right away!